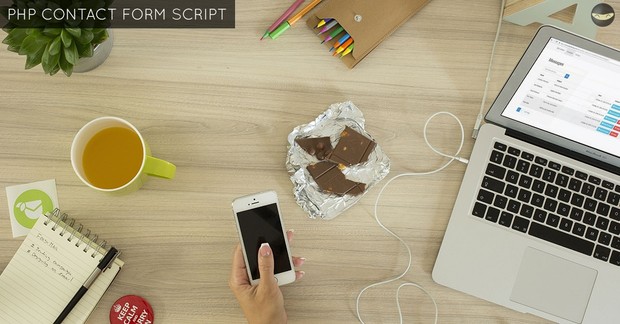 PHP Contact Form & Messages Module – Download Now!
Source code download in ZIP.
Features that you will enjoy.


Learn more techniques when coding with PHP, MySQL and OOP


Save your precious time coding and searching about how to do the features below.


PHP PDO and Prepared Statements


jQuery enabled


Bootstrap enabled


Font-awesome enabled


Buttons are displayed with appropriate icons


CONTACT FORM


Name field


Email field


Subject field


Message field


Client side validation (HTML5)


Server side validation (PHP)


Display contact email from settings


Display contact number from settings


Display contact person from settings


Store customer message to database


Send message to contact email (email set in the settings)


Send confirmation email to customer


Sending email can work via localhost using the PhpMailer library


FORM SECURITY


Uses htmlspecialchars($_SERVER["PHP_SELF"]) for form action


Made sure $_SERVER["REQUEST_METHOD"]=="POST"


Sanitize each submitted field with htmlspecialchars(), strip_tags() and trim() functions


Require value for each field


Show an error message under input fields if value is missing


Validate email address format


Keep values in the form if there are any error


MESSAGES


List messages collected from customers using the contact form


Display name, subject, sent and action columns


Unread messages in white row background


Read messages in gray row background


Pagination of messages


Search messages by name, email, subject and message fields


Read a message


Delete a message


SETTINGS


Setting for contact firstname


Setting for contact lastname


Setting for contact gender


Setting for contact email


Setting for contact number


Decide if you'll show contact name


Decide if you'll show email


Decide if you'll show contact number


USER


Login using email and password


Log out user


Hashed password stored in database


Logged-in user name display on the right side of navigation bar


Log-out button displayed on drop-down when user name was clicked


Messages can be read by logged-in admin.


Messages can be deleted by logged-in admin.


UPDATES AND SUPPORT


Free source code updates for 2 years


Free support for 6 months


For more details, see:
https://www.codeofaninja.com/2016/07/simple-php-contact-form-script.html
Kind Regards,
Mike Dalisay
Software Developer
Founder and Author,
codeofaninja.com
You'll get 1 file (3.7MB)