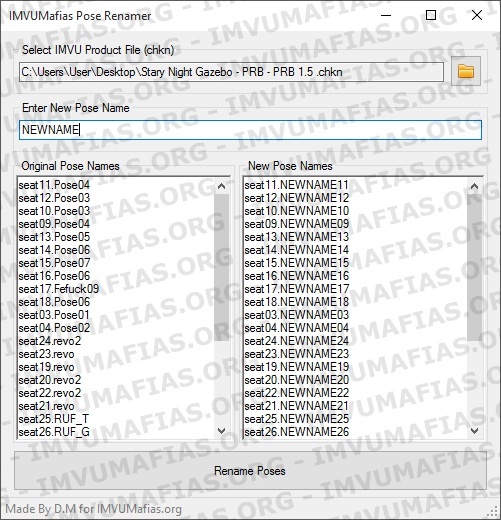 IMVU Pose Renamer
IMVU Pose Renamer
This program lets you rename all of the poses in a product giving them all a new name.
What would normally take an advanced user 20mins of manually editing code and a regular developer all night can now be down in mere seconds!


Renames the poses in the index file


Renames the poses in the skeleton file


How to use the Pose Renamer


Click the button with the folder icon to select a product (chkn file)


Wait for the program to find the poses. If it doesn't find any or finds an error a message box will alert you.


After it finds the poses, type in a new name you would like to give the poses.


Click the Rename button.


For more IMVU tools check out the IMVUMafias
http://www.imvumafias.org/community/viewforum.php?f=179
You'll get a 366.1KB .ZIP file.
More products from D.M