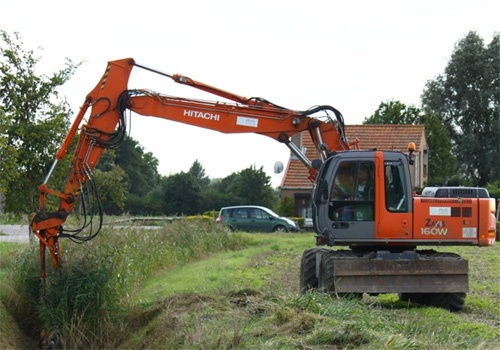 Hitachi Zaxis 160W Wheeled Excavator Workshop Manual Download
Complete factory workshop  manual for the Hitachi Zaxis 160W Wheeled Excavator.
This manual contains maintenance and repair of the machine, tools and devices
needed for maintenance and repair, maintenance standards, and removal/installation and assemble/disassemble procedures.

Workshop Manual Covers:
SECTION 1 GENERAL INFORMATION
Group 1 Precautions for disassembling and
Assembling
Group 2 Tightening Torque
Group 3 Painting
Group 4 Bleeding Air from Hydraulic Oil Tank
SECTION 2 UPPERSTRUCTURE
Group 1 Cab
Group 2 Counterweight
Group 3 Main Frame
Group 4 Pump Device
Group 5 Control Valve
Group 6 Swing Device
Group 7 Pilot Valve
Group 8 Pilot Shut-Off Valve
Group 9 Signal Control Valve
Group 10 Travel Shockless Valve
Group 11 Solenoid Valve
Group 12 Pilot Relief Valve
Group 13 Steering Valve
Group 14 Brake Valve
Group 15 Accumulator Charging Valve
Group 16 Transmission Control Valve
SECTION 3 UNDERCARRIAGE
Group 1 Swing Bearing
Group 2 Travel Motor
Group 3 Center Joint
Group 4 Transmission
Group 5 Axle
Group 6 Axle Lock Cylinder
Group 7 Operate-Check Valve
SECTION 4 FRONT ATTACHMENT
Group 1 Front Attachment
Group 2 Cylinder
Group 3 Hose-Rupture Safety Valve
Group 4 Operate-Check Valve
SECTION 5 ENGINE AND ACCESSORY

==================================================
High Quality PDF Manual,All pages are printable. 
Instant Download
No Shipping Cost
No Need to Wait For A CD-ROM


File Format:  PDF
Language: English
Compatible: All Versions of Windows & Mac
Requirements: Adobe PDF Reader , WinZip
Thanks for visiting!
You'll get a 17.2MB .PDF file.