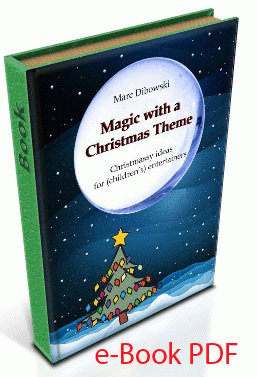 Magic With A Christmas Theme | Christmas Magic Book Marc Dibowski
MAGIC WITH A CHRISTMAS THEME - Marc Dibowski - eBook PDF CHRISTMAS MAGIC book - by Marc Dibowski (eBook Download PDF) Foreword written by David Kaye. NEW and never lower price in 2016!! _________________________________________________________________________ "The comedy and the magic works. The book is well written and should be well received by the magic community. I would definitely recommend this book to all magicians and workers of kids." Chris Capehart "I REALLY enjoyed your Christmas book of routine, effects and ideas. This would open a whole new world of opportunities to the working performer.I think your advice based on experience is worth its weight in gold." Bill Abbott, Toronto Canada,
www.billabbottmagic.com
"This book should be called 'loads of great ideas that you will use in your christmas shows'. The title hides the gems that are hidden inside. As I read through it I kept thinking - why didn't I think of that? Worth every penny." Keith Fields,
www.keithfields.com
"I have just read a most enjoyable book by Marc Dibowski, on the topic of Christmas shows. This is not a standard book of Christmas routines; instead, it will help to stimulate your own creativity so you can design your own Christmas magic show. Marc thoroughly covers music selection, stage setting and various props and effects to use in a Christmas show. He also has a wealth of ideas you can incorporate with standard magic props you probably already own. For completeness, there is also a section on commercially available Christmas show props. This book definitely fills a need in the magic community, and I give it my highest recommendation!" Marty Hahne - Linking Ring Kid Show Columnist "[...] A must read [...] Very highly recommended." Paul Romhany Vanish Magic Magazine Issue #4 "[...] Marc included a bonus mentalism routine for adults at the end, which is in my opinion worth the price of the ebook itself. It is wonderful. I loved it and have prepared my own little variation of this." Chris Wasshuber Lybrary "[...] if you would like to add Christmas-themed elements to your stand-up show, the "Magic with a Christmas Theme" book is filled with ideas that can stimulate your creativity." Wayne Kawamoto Magic About All informations on this product:
www.MD-magicbooks.com
This is the official sales website of Marc Dibowski - author of "Magic With A Christmas Theme". _________________________________________________________________________ In this book, Marc Dibowski, author of some bestselling books for magicians in germany, shares ideas and effects for a magic act in the holiday season. Add a touch of winter and christmas to your kids show, stand-up, mental or close-up act. In addition to ideas on props, you will also find routines and ways to tailor your act for christmas without high expenses, without lots of props, without laborious efforts. The book is completed with informations on Christmas characters, links to marketed effects including sources and information on Christmas traditions in different countries. You WILL use some of these ideas ...! 78 pages; Letter Size, 3rd Edition November 2012 (included some ideas for adult shows not published in the AmazeKids edition). more at
www.MD-magicbooks.com
You'll get a 1.7MB .PDF file.
More products from Marc Dibowski - MAGICBOOKS