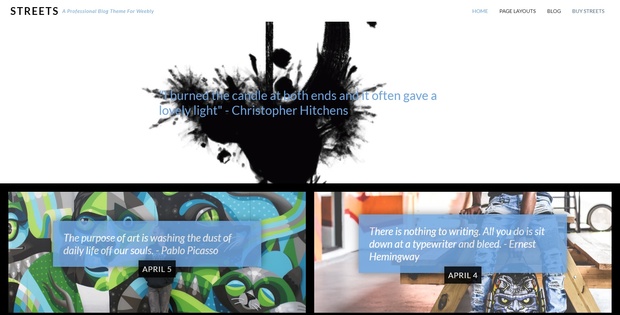 Streets (Weebly Theme)
Learn more about Streets here:
https://weeblytricks.weebly.com/streets-weebly-theme.html
Let your imagination, expression, and creativity run wild with Streets, a professional and image-focused blog theme for Weebly. Streets' most notable feature is it highly customizable video background, to which its desktop, mobile, and tablet height, color, and video entrance animation can be adjusted. You can choose from 1 of 2 built-in video backgrounds from Streets' "Theme Options", or add your own without touching a line of code!
To not be ignored is Streets' 'Blog Automation' feature, which automatically displays 2, 4, or 6 (you choose) of your blog's latest posts in an attractive, image-focused, grid layout on the 'Streets' page layout. You'll also not only find Weebly 4's Customizable Header and 'Section' element, but not just 1, but 2 global footers (includes free Weebly accounts).
You'll get 1 file (4.9MB)
More products from Weebly Tricks