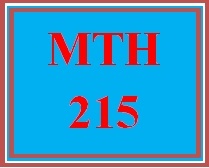 MTH 215 Week 4 Math In Our Lives for Week 4 R3.2
Entire Course Link
https://zh.scribd.com/document/340327850/Uop-Tutorial
 MTH 215 Week 4 Math In Our Lives for Week 4 R3.2 
This is a message thread we will use for articles you and I find in the press, in the technical material we see at work and so forth, where math is an important part of the article. Feel free to add your own "Math in Our Lives" contributions − and your comments − for participation credit. While there is a thread for each week, you can revisit a past week's posts to post a reaction or expand on one of those prior contributions.  
To kick Week 4 off, I'll share a post from another student who found out math really was for the birds.
"I googled "math in nature" and found a bunch of things on the Fibonacci sequence, as expected, but did find this neat article on a song bird that uses similar mathematical-based sounds as humans do in music. We base our songs on scales that begin with a root note and every note after that in the scale is a frequency based on multiples of that note. The hermit thrush does songs in the same way! Check out the article with sound recording of the bird's songs, it's pretty interesting."
http://www.smithsonianmag.com/science-nature/birds-songs-share-mathematical-hallmarks-human-music-180953227/?no-ist
You'll get a 34.0KB .DOC file.