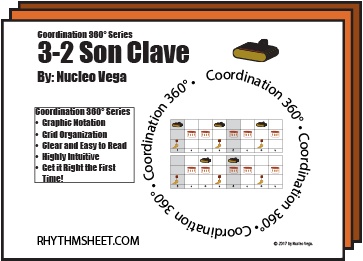 Coordination 360° Series: Son Clave 3-2
Coordination 360° Series: Son Clave 3-2
Graphic Notation
Grid Organization
Clear and Easy to Read
Highly Intuitive
Get it Right the First Time!

Coordination 360° is inspired by George Lawrence Stone's book, Stick Control. Drummer and educator, Nucleo Vega, guides the reader through over 100 pages of coordination exercises designed to improve and give awareness to the interdependence between the snare drum, bass drum, and clave.

All examples take the reader through 1/16 note, 1/8 note, and 1/8 note triplet variations in order to help the reader learn to execute these examples in different musical contexts. Each example is graphically notated in order to make comprehension easy and achievable. The hope is that people will take on greater challenges with coordination if the format is simple and clear.

As a PDF, this book can be instantly downloaded and read on your smart phone or tablet device, so you can practice exercises anywhere with or without your instrument.



Focus on coordination!
You'll get a 103.6MB .PDF file.
More products from 3266107872395544