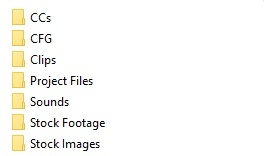 Red's 2017 Editing Pack
This is my 2017 editing pack!
In here I included everything i use or have used in the past. I really hope you can find some use out of this pack and improve on your edits!
I feel that $20 is a fair price given how much time has been put into this pack, the project files themselves would make up the 3/4 of the pack if you were to purchase everything alone, and I have included so much more than just that. 
Including:
- Clips i really enjoyed editing
- CFG's for Black Ops 2 that i use often 
- Stock images I've found useful as well as many extras that may be useful to you
- Stock footage made specifically for this pack
- The original, unedited gunsounds i use the most as well as some bonus sounds
- Three project files 
   - Delta: 
https://www.youtube.com/watch?v=Nwy9nk2giTg
   - Vicious: 
https://www.youtube.com/watch?v=gP_4miZLJTY
   - Axel:
https://www.youtube.com/watch?v=Nc0AvjinL7g
By purchasing this pack you agree not to redistribute it or any of the content provided. 
If you have any questions please feel free to shoot me a DM on twitter @RedVFX_
You'll get a 233.6MB .RAR file.
More products from Red