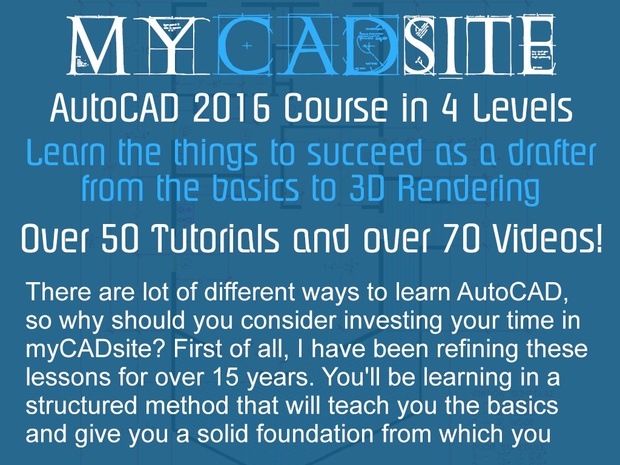 AutoCAD 2016 Tutorials & Videos - Complete course in 4 levels from myCADsite.com
Do you want to learn how to use AutoCAD?
There are lot of different ways to learn
AutoCAD
, so why should you consider investing your time in
myCADsite
? First of all, I have been refining these lessons for over 15 years. You'll be learning in a structured method that will teach you the basics and give you a solid foundation from which you can build. You'll also learn all of the most common commands and techniques that drafters use in their daily jobs. I've worked with AutoCAD in a number of jobs and found that for a program that is this complex, most users only tap the surface. Learn what you NEED to know and master those tools.
I've broken the course down into four levels:


Level 1 - Introduction to the common drawing and modifying commands


Level 2 - Putting your new skills to use and more advanced concepts


Level 3 - 3D Drafting, lighting and rendering


Level 4 - Advanced and other Topics


Each tutorial contains a complete lesson, a video and a short quiz at the end.  This helps people who learn by different methods.  Most tutorials also contain exercises so you can practice these new concepts.
What you need:


These lessons


A functioning version of AutoCAD (not included, but you can get a free trial)


A modern, current web browser to view the tutorials


This download consists of
over 50 tutorials
and
over 70 videos
!  They are designed for AutoCAD 2016, but will apply to all versions (although a few newer commands will not work in the older versions).  Note: Some videos will show the concepts using older versions of AutoCAD.
This is a large file - Just over 1GB!!
- so please have a good connection when you download this. 
If you have any questions about the material, you can email me at
[email protected]
You'll get 1 file (1.0GB)