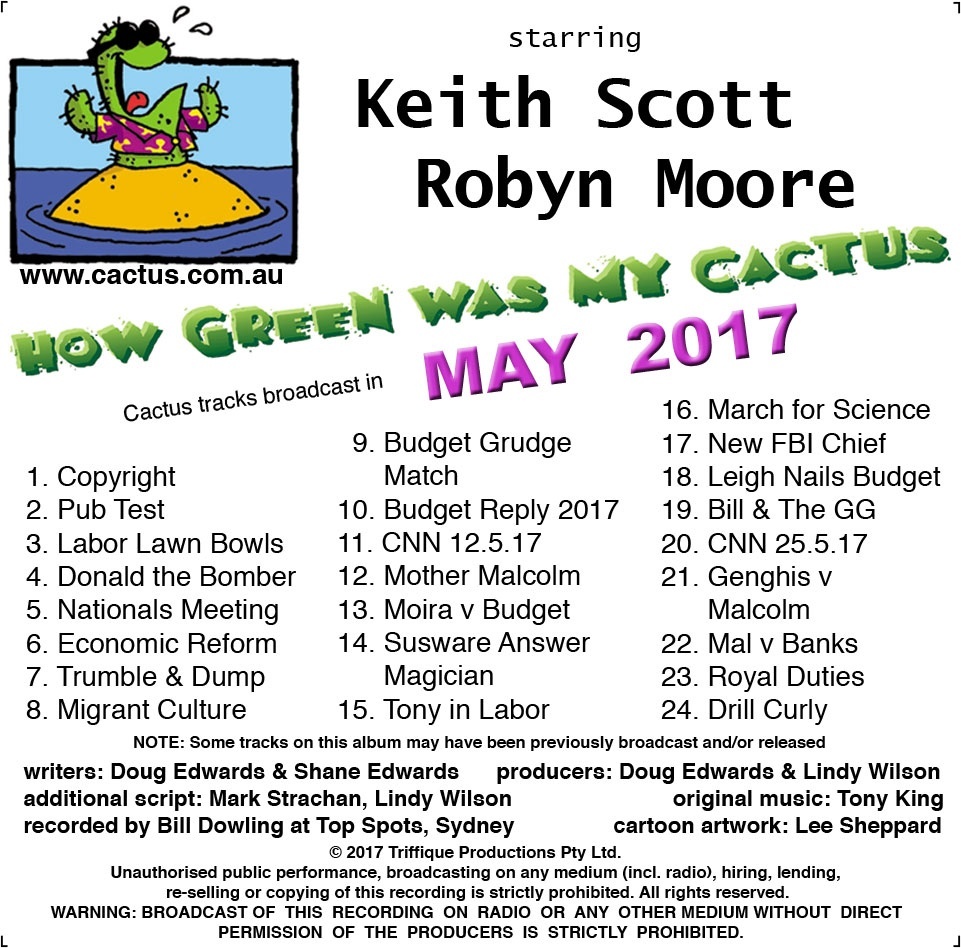 CACTUS - MAY 2017
DESCRIPTION
CACTUS - MAY 2017
TRACKS
1. Copyright: All material downloaded is copyright.Unauthorised public performance,broadcasting on any medium (including. radio),hiring,lending,re-selling or copying of this recording is strictly prohibited.All rights reserved. ©2016 Triffique Productions Pty Ltd
2. PUB TEST: Mal Talkbull and his Cabinet colleagues subject business tax cuts to the pub test at the Busted Arms Hotel.
3. LABOR LAWN BOWLS: Bill Curly takes his Labor colleagues lawn bowling as part of his plan to invigorate the Party. Senator Doug McDoug thinks Bill has been tossing his caber too much.
4. DONALD THE BOMBER: Donald Dump wants to make the American people love him again. Melania Dump suggests he buy them all diamonds – that worked for her.
5. NATIONALS MEETING: National Party leader Barnaby Joh believes global warming is a conspiracy by Chinese greenie scientists.
6. ECONOMIC REFORM: Mal Talkbull blames the previous government for the enormous deficit. Not the previous Labor government, he means the Abbott government.
7. TRUMBLE & DUMP: President Donald Dump finally meets Malcolm Talkbull, a hobo worth only $300,000,000.00. 
8. MIGRANT CULTURE: Bill Curly and Malcolm Talkbull try to top each other's citizenship test. Mal wants migrants to know Don Bradman's average, Bill wants them to know Don Bradman's above average.
9. BUDGET GRUDGE MATCH: Big Gazza Roidman reports on the annual budget grudge match at the Parliament House of Pain.
10. BUDGET REPLY 2017: Flopposition leader Bill Curly delivers his Budget Reply speech. Health authorities warn that this may cause drowsiness. Listeners should not operate machinery.
11. CNN 12.5.17: News & Sport. Plus showbiz news that Dear Leader Kim Jong Nong will star as himself in a North Korean tv cooking show called My Nong Rules.
12. MOTHER MALCOLM: It was a tough Mothers Day for dithering old Mother Malcolm, harassed by his 3 little brats, Bill Curly, Pauline Hatful and Tony Abs.
13. MOIRA v BUDGET: Home Shopping channel presenter Moira Gush again hosts the sales team from Budgets-R-Us, CEO Mal Talkbull, Treasurer Blot Morrison and Finance Minister Mathias Cormanegger.
14. SUSWARE ANSWER MAGICIAN: Hey migrants! Want to become a citizen but not sure you'll pass the citizenship test? You need Susware's Answer Magician! The correct answer every time!
15. TONY IN LABOR: Just when Labor thinks its leadership problems couldn't get any worse, Tony Abbott turns up and offers to take the leadership job.
16. MARCH FOR SCIENCE: Deputy PM Barnaby Joh has organised an anti-science march. The marchers include Pauline Hatful and Cory Bananas.
17. NEW FBI CHIEF: President Donald Dump interviews prospective new FBI chiefs, including our own Kevin Krudd and Tony Abs, and of course Agent 86, Maxwell Smart.
18. LEIGH NAILS BUDGET: The host of '7.30' Leigh Nails confronts Mal Talkbull and Treasurer Scott Borrowsome about the new bank levy. She also talks to the Big Four Banks spokesmanure, Robin Coyte.
19. BILL & THE GG: Bill Curly visits Governor General Sir Peter General, asking him to call an election. Sir Peter is quite tipsy because he wants to represent the Royal family accurately.
20. CNN 25.5.17: Sandra Silly with the news, Richard Richard with showbiz, and Big Gazza Roidman reports that boxing genius Anthony The Man Mundane is planning yet another defence of his own head.
21. GENGHIS v MALCOLM: Radio talkback guru Genghis Porkbun is upset that Malcolm 'The Menace' Talkbull, has given us broadband so slow that it has reinvigorated the carrier pigeon industry.
22. MAL v BANKS: Emperor Mal Talkbull has steam coming out his ears. He's been giving the Big Four Banks a piece of his mind.
23. ROYAL DUTIES: Queen Bessie of Buckinghuge Palace commands her family to do more royal duties now that Prince Philipoussis is retiring. Prince Charles complains that this will mean he has to get out of bed.
24. DRILL CURLY: The host of the ABC's '7.30' Leigh Nails asks Labor's ho-hum leader Bill Curly if it's true that his new nickname is Drill Curly because he's such a boring tool.
NOTE: TRACKS ON THIS ALBUM MAY HAVE BEEN PREVIOUSLY BROADCAST AND/OR RELEASED
COPYRIGHT: All tracks and material ©2017 Triffique Productions Pty Ltd. All rights reserved. All material downloaded is copyright. Unauthorised public performance, broadcasting on any medium (including. radio), hiring, lending, re-selling or copying of this recording is strictly prohibited. All rights reserved.
You'll get a 48.4MB .ZIP file.
More products from doug_e