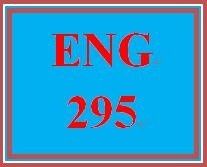 ENG 295 Week 3 Fables, Fairytales and Moral Purpose
Entire Course Download Link
https://uopcourses.com/category/eng-295/
 ENG 295 Week 3 Fables, Fairytales and Moral Purpose 
Select one of the following options to complete the assignment.
Option 1:
Choose one fable and one fairytale from the collection of readings for the week.
Write a 350- to 700- word paper explaining the moral purpose in each, and the strategies that the writer uses to teach that moral purpose.
Option 2:
Write your own fable or fairytale that has a moral purpose or teaches a moral lesson.
Include a reflection, in a separate document, that compares your fable or fairytale to those you read this week.
You'll get 1 file (49.5KB)
More products from UopTutorials