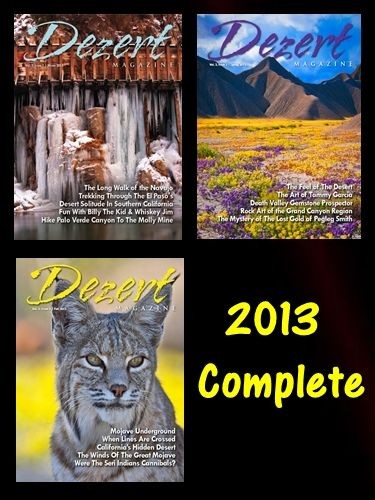 2013 Complete ( 2 issues & 1 double issue )
Complete 2013 edition with 2 regular issues and one HUGE DOUBLE issue!!!

Find out what is was really like during the Navajo's long walk with Darla Dollman. Relive the exciting days of outlaw Billy the Kid and Whiskey Jim with Drew Gomber ( of the History Channel ). Take a road trip through the Mojave desert with stops at Soda Lake, Kelbaker and Zzyzx road as well as Kelso Dunes and Depot, courtesy of Walter Feller. Come along as Death Vally Jim conquers El Paso mountain and visits the ghost towns of Goler and Garlock. Enjoy a great hike through the Palo Verde Canyon to the Moly Mine with Diana Lindsay. And last but not least learn of the plight of the wild mustangs from Taylor James. In the Spring issue, we explore the history of the Antelope Valley Indian Museum and dig into the Mystery of the Lost Gold of Pegleg Smith. We also discover the truth about the beginning of borax king Francis Marion Smith. Enjoy the amazing and exquisite beauty of Native American pottery by the renown artist Tammy Garcia. Rockhounds will love the story on Azurite as well as the book review of the Rock Art of the Grand Canyon. Learn about Death Valley prospector Shady Myrick and enjoy the Feel of the Desert courtesy of Death Valley Jim. This and much much more awaits you in this issue of Dezert magazine!!! And now for the BIG DOUBLE issue with articles about the Dale mining district near Joshua Tree Ca, the history and art of Majorie Reed, Discover the Carrizo Plain, the final part of Peglegs Lost Gold, Explore the depths of mining with the Mojave Underground and a special article on how the Bobcat Protection Act was at the heart and soul of a desert community!!!! This and MUCH MUCH More!!!!
You'll get 1 file (206.0MB)
More products from Dezert Magazine