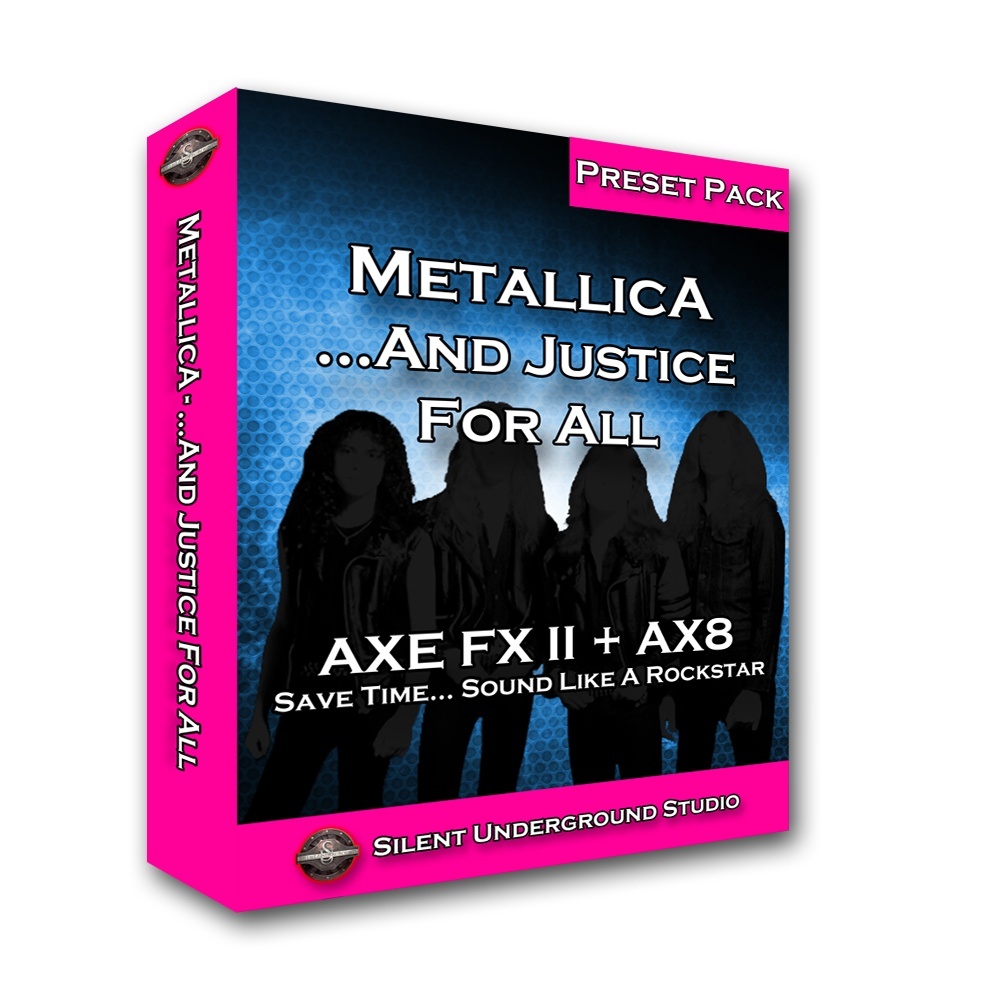 Metallica - And Justice For All (FAS)
Metallica And Justice For All Preset Pack.
7 Tone-Matched Presets for the AXE FX II and AX8.

Band - Metallica
Song - ...And Justice For All
Album - ...And Justice For All
Format - AXE FX II / XL / XL+ / AX8
Firmware - Quantum 9.04
Setup - Direct Recording / Straight to PA / FRFR

We know that your time is valuable. We know all too well the frustration of lost time trying to program presets, create tone matched cabinet IRs and configure setups for complex modern guitar processors like the AXE FX II. That is why we spend the time making these Preset packs for you. So you can SAVE TIME & SOUND LIKE A ROCKSTAR !!

Why we use Cabinet IRs and not the Tone-Match Block: Our tone-matched Preset Packs use custom Cabinet IRs NOT the internal "Tone Match" block of the AXE FX II. This allows us to achieve much closer sounding STEREO presets, that also work with the Fractal Audio AX8.

What You Get:

Presets:
Bass
Intro Clean
Intro Clean Lick
Rhythm
Rhythm Harmony
Solo 1
Solo 2 

Cabinets:
Bass
Intro Clean L
Intro Clean R
Intro Clean Lick L
Intro Clean Lick R
Rhythm L
Rhythm R
Rhythm Harmony L
Rhythm Harmony R
Solo 1 L
Solo 1 R
Solo 2 L
Solo 2 R

Disclaimer: Please first know HOW to use your hardware / software BEFORE purchasing our products. They are made to work in any standard AXE FX II and AX8 setup without the need for additional external processing. No refunds are given on digital products.
You'll get a 1.2MB .ZIP file.
More products from Silent Underground Studio