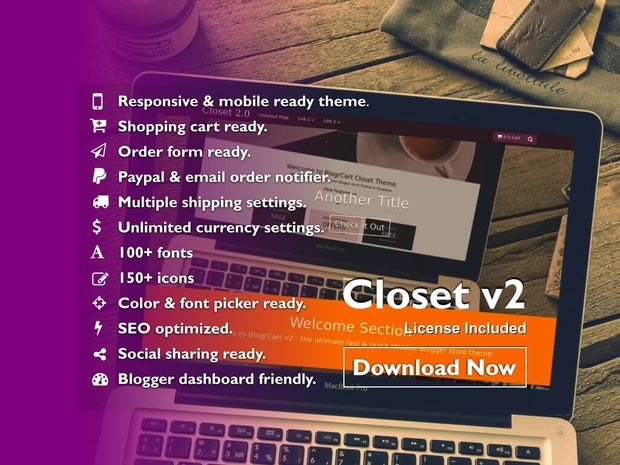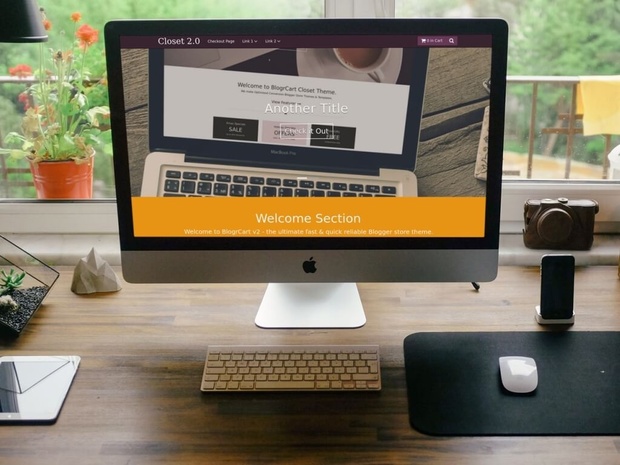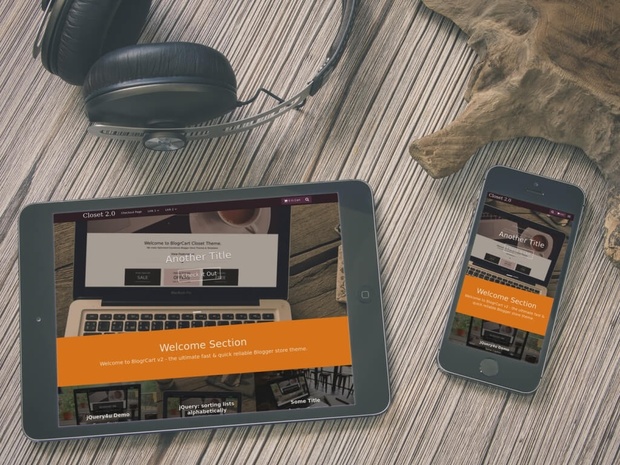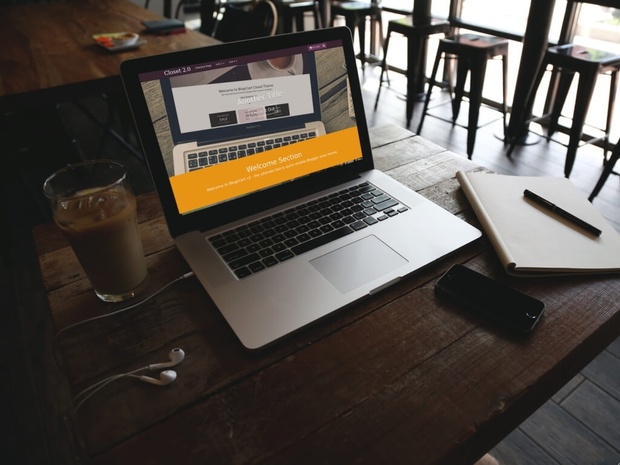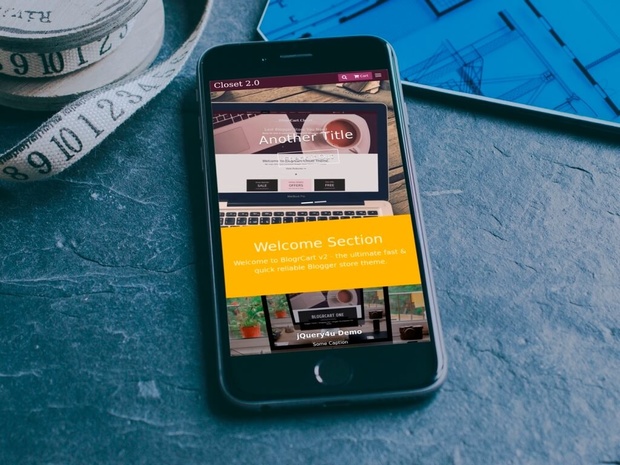 BlogrCart CLOSET V2 (PRO) - Responsive Blogger Shopping Cart Theme/Template (Bundled)
[INSTAGRAM UPDATE]
Instagram's new restrictions starting 1st June 2016, have been rolled out!
ONLY FOR Closet v2 (version 2.1 & below)
- Guide to easily update your BlogrCart Closet V2 Instagram plug-in
http://blogrcart-closet-v2.blogspot.my/p/closet-v2-updates.html
Easy step by step guide to create & register your own Instagram Client
http://blogrcart-closet-v2.blogspot.my/p/create-register-new-instagram-client.html
.
Always providing the best & awesome Blogger stores for you! Thank you for your patience.
---
"...
Boy, that was fast! Thank you again! I think I'm in love with this template...
" by Chris - On-line Entrepreneur. You want to know why?
Read below...
All human readable codes money back guarenteed!
---
[NEW]
 Theme video tutorials now made available to the general public. Please visit 
https://www.youtube.com/watch?v=Qc_b-QPQzfI&list=PL63rCNJ0hluo4oK5k9b0vDT3gopL2RyNt
. Subscribe our Youtube channel 
https://goo.gl/59925v
& get the most recent template tips & tricks! 
ABOUT #blogrcart CLOSET
---
A beautiful, elegant, professionally crafted responsive Bootstrap 3++ mobile first e-commerce inspired Blogger store theme pre-installed shopping cart, send order email, Paypal checkout & more. Touch/mouse swipe enabled image carousel product slider easily customize this theme with detail documentation provided.
WHAT'S NEW IN CLOSET v2?
---


Re-written template codes & further optimized for the web & mobile experiences.


Re-written & optimised jQuery/javascript plug-ins


No code edit helper widgets installed


Supports blogger theme designer features. Change theme colors, background, fonts


Currency changer to Paypal supported currency checkout available.


Automatically build send order form.


Supports custom editing from Blogger dashboard.


Added Instagram plug-in.


Added custom styles for Blogger default widgets.


Added global tab section for product.


New alert click button text.


Pre-installed before price & status for product listing.


18% faster page load


Optimized image feed


New simplified product post helper


Contact page included.


Product zoom image pop over pre-installed.


Uses latest version plug-in libraries.


Compatible with v1 product post helper!


And many more... 
#blogrcart CLOSET v2
---
Version History
---
v2.0
v2.1


Fixed tax calculation inconsistencies


Clean up codes & stylesheets


Updated documentation


Fixed slider click to action links not dynamically rendered


v2.2


Updated to allow usages for Instagram new API restrictions.


---
This is a theme bundle download.
Get 2 theme versions worth USD 39.80 & licenses with 1 awesome price! --- USD 19.90 ONLY ---


Existing #blogrcart Closet Pro users, find your #blogrcart Closet v2 full featured copy in your email. Any inquiries, please contact us right here, to update your contact details. 
---
#blogrcart CLOSET v1
---




Last Versioning: Version 1.2



FULL PERMISSIONS & LICENSE INCLUDED USERS FEEDBACK
---
"
... Amazing design service provided by Irsah Indesigns. Didn't expect that e-commerce functions can be done through a blogger ..
" - by Singapore's leading Korean K-Pop Merchandise On-line Store! More reviews here at
www.facebook.com/irsahindesigns
THEME FEATURES v1 & v2
---


Increased sales conversions right from a blogger blog, proven track records!


Bootstrap 3 mobile 1st responsive framework for Blogger looks awesome on mobile & working too!


Shopping cart by simplecartjs pre-installed


Touch/mouse swipe enabled image slider for products by slick.js.


Google fonts pre-installed.


25+ currency pre-sets included & custom currency settings available if required. Pre-sets currencies include MYR, IDR, INR, VND, SGD, PKR, NGN & more. 


Shipping/delivery charges settings available.


Tax charges settings available.


Cross browser support & mobile tested.


Auto post template allows easily edit/publish products with tabbed panel for product info.


Related products comes with carousel transitions & setting included.


3 custom layouts for product page, product gallery & static pages.


Unlimited use send order email with form & functions included.


Pop over view cart & search product bar.


140++ webfonts/icons ready by Font Awesome.


Heavily documented with tips & tutorials included in demo site & author's blog.


Pop over responsive product image gallery styled. 


Alert add to cart & helpers pre-installed.


NO HIDDEN CODES & complicated HTML. All codes are human readable with indicators.


UNLIMITED SUPPORT & HELP by irsah inDesigns team members, author & designers.


RETURNS & REFUNDS
---
To protect USER & SELLER to theme purchases, transactions here is bound to Paypal On-line Protection Program which allows REFUNDS for ANY of theme purchases. Detail & updates at
www.paypal.com
- conditions applies.
SUPPORT & HELP
---
Feel free to contact us if you have any questions at support [at]
irsah.com
. You could always tweet us at
http://twitter.com/irsahindesigns
@irsahindesigns & view #blogrcart themes fans daily tweets at
http://twitter.com/hashtag/blogrcart
.

FIND US
---
IT'S YOURS!
---
No monthly or recurring fees to worry about, list your product online quickly with no coding knowledge required for setup - that's why #blogrcart themes was built for...
Click the Green Button
to instantly download this theme now..
This is a theme bundle download! 
Get 2 theme versions worth USD 39.80 & licenses with 1 awesome price! @ USD 19.90 ONLY!

You'll get 1 file (1.7MB)
More products from irsah indesigns