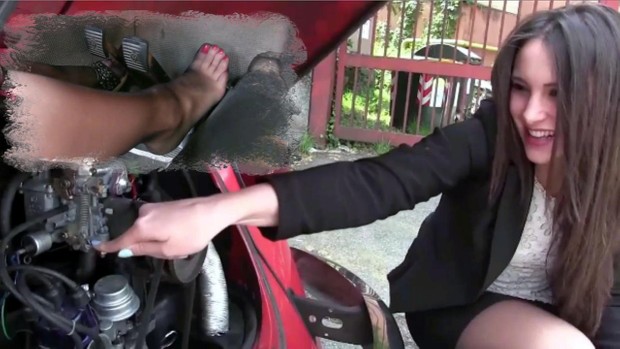 165 : Miss Iris WV Beetle hard revving

Miss Iris today wants to rev the Beetle engine, because it gave her a lot of problems in the last drives. She just have taken that from reparation, because of all the stalling problems!

So to be sure that everything is okay, a good revving is the key!

She is wearing a black jacket, a white top and a black short skirt, thighs and mules.
Dressed to impress, she gets in the car, turns the key and let the engine roars to life!

"Finally I have my car! You are perfect and I will enjoy my time with you..."

After a few revs, she understands that she has a good mechanic because the beetle hasn't stalled yet, so why can't she try to pump harder? Just to check if everything is okay... ;-)

She pumps also barefeet so she can feel better if there is any problem with the engine, plus she can rev the car with both feet pressing hard on the gas pedal!

Some of the views are in First Person, as if you are Miss Iris looking at her own feet!

After a while she is curious to see how does this little engine work, so she goes under the hood and press from there the gas pedal with her hands! She has a really smiling face, she loves so much to rev the hell out of that engine!

Is the engine okay? Will it survive this revving?
You'll get 1 file (308.1MB)