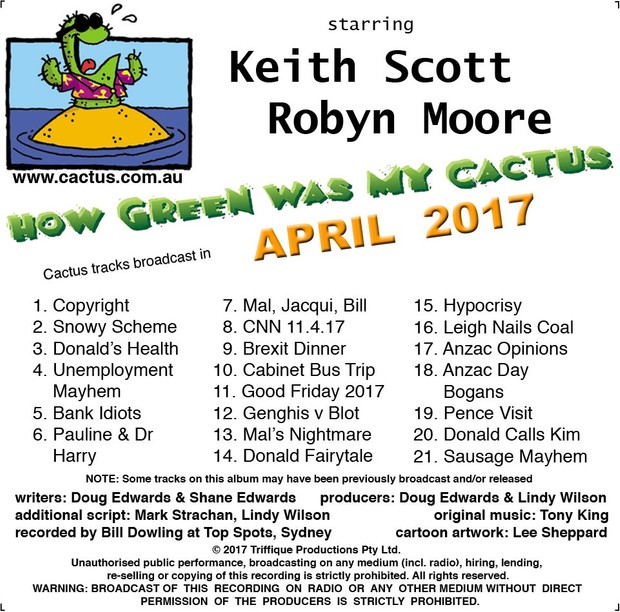 CACTUS - APRIL 2017
DESCRIPTION
CACTUS - APRIL 2017
TRACKS
1. Copyright: All material downloaded is copyright.Unauthorised public performance,broadcasting on any medium (including. radio),hiring,lending,re-selling or copying of this recording is strictly prohibited.All rights reserved. ©2016 Triffique Productions Pty Ltd
2. SNOWY SCHEME: The Liberal Party's right wing lovingly embraces Mal Talkbull's plan to generate future power by extending the old Snowy Hydro Scheme because it takes the country back to the 1950's.
3. DONALD'S HEALTH: Desperate to resolve his health care policy issues, President Donald Dump asks Vladimir Poothing to let the people of America join Russia's free health care scheme.
4. UNEMPLOYMENT MAYHEM: Cactus News super gob Mark Mayhem investigates the latest unemployment figures. Unemployment is rising faster than a crook oyster.
5. BANK IDIOTS: Justin and Stella Idiot question their bank over mortgage interest rate rises. The manager explains that the bank is going broke because of all the executive bonuses it pays.
6. PAULINE & DR HARRY: Celebrity vet Dr Harry gets a visit from a very distressed political animal, a copper-topped cuckoo called Pauline.
7. MAL, JACQUI, BILL: Malcolm Talkbull speaking. Today I share the parliamentary lift with Flopposition Leader Bill Curly and Senator Jacqui Tacky. God I hate public transport.
8. CNN 11.4.17: Sandra Silly with the news, including the release of US President Donald Dump's new health care plan to replace 'Obama Care'. Donald's plan is called 'I Don't Care'.
9. BREXIT DINNER: Queen Bessie knights PM Theresa May for her Brexit triumph, using salad tongs instead of her sword which Harry has borrowed to harvest his special greenhouse plants. 
10. CABINET BUS TRIP: Mal Talkbull takes his Cabinet colleagues on a special bus trip. Special because it's the first time on a bus for any of them.
11. GOOD FRIDAY 2017: 'Sunrise' host Kochie talks to people about Good Friday, or as it's called by workers whose penalty rates are being cut, Not-As-Good-As-It-Was Friday.
12. GENGHIS v BLOT: Radio talkback genius Genghis Porkbun berates Treasurer Blot Morrison, suggesting he'll soon have the country in more debt than the Vatican Compensation Fund.
13. MAL'S NIGHTMARE: Mal Talkbull is woken at 3am by Senators Jacqui Tacky, Pauline Hatful and Derryn Livershot. They can't sleep, they get too much in the Senate during the day.
14. DONALD FAIRYTALE: Hello kiddies! Today's fairy story is about little Donald Dump and what he did after his health care plan blew up in his face and made it go orange.
15. HYPOCRISY: Labor Party shop steward Bill Curly and his sidekick Albo bag Mal Talkbull over penalty rate cuts for workers. Judas Bishop objects to them criticising Mal – that's Tony Abs' job.
16. LEIGH NAILS COAL: Renewable energy or coal fired power? To hear the case for the latter, the host of 7.30, Leigh Nails, interviews a lump of coal.
17. ANZAC OPINIONS: Sandra Silly interviews Mal Talkbull, Bill Curly, Sarah Handsome-Rack, and Pauline Hatful about Anzac Day. She might as well have interviewed Simpson's Donkey.
18. ANZAC DAY BOGANS: The Bogan family misses the Anzac Day Dawn Service because Davo turned the alarm clock off as a mark of respect to the Diggers.
19. PENCE VISIT: Mal Talkbull takes visiting US Vice President Mike Pants to lunch at Harry's Café de Wheels. He doesn't want to spend much on any Trump administration whacko.
20. DONALD CALLS KIM: Pres.Donald Dump warns Kim Jong Nong to abandon his nuclear weapons or he'll make North Korea great again by levelling it to put up Trump Towers and casinos.
21. SAUSAGE MAYHEM: Cactus News super gob Mark Mayhem reports on our national shame, the appalling attempts by Mal Talkbull and Bill Curly to eat our national dish, a sausage sanga.
NOTE: TRACKS ON THIS ALBUM MAY HAVE BEEN PREVIOUSLY BROADCAST AND/OR RELEASED.
COPYRIGHT: All tracks and material ©2017 Triffique Productions Pty Ltd. All rights reserved. All material downloaded is copyright. Unauthorised public performance, broadcasting on any medium (including. radio), hiring, lending, re-selling or copying of this recording is strictly prohibited. All rights reserved.
You'll get 1 file (42.3MB)
More products from doug_e