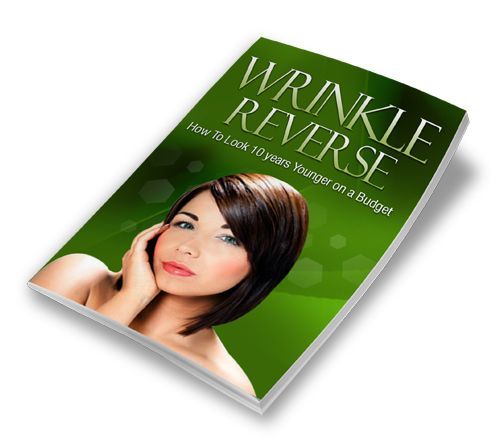 Wrinkle Reverse
Are You Looking For The Best Solution To Those Stubborn Lines & Wrinkles?...Do You Wish You Could Turn Back The Clock By 5 or Even 10 Years?.

Then Read Below Because I'm About To Show You How!!


But first let me just ask,...Does This Sound Like You?

*You have started noticing wrinkles around your eyes and lines on your forehead.
*You have started grabbing every single product you can find that promises to recapture that youthful look
*Does it take you longer and longer to get ready every morning
*Have you spent a great deal of money on skin care products wich didn't work.

Then let me introduce you to.....

"Wrinkle Reverse"

It's true, & deep down we all know it,...there is no way to stop the natural aging process, not really.

But you can take action to slow this process right down.

And when done right you can even start to roll back the years as far as facial appearance goes that is!.


Let me show you the many natural ways to cheat the aging process. Find out how to look and feel so much younger using simple natural ingredients

and components that actually achieve great results.

Take a look at all the valuable, eye-opening information that's in store for you:

*How & Why Your Skin Ages
*How To Treat Oily Skin
*How To Treat Combination Skin
*Which Skin Type do You Have
*Caring For Your Skin from the Inside
*Chemical Skin Peels
*The Low Down on Facelifts and Other Procedures
*Find Out About Free Radicals & How They Damage Skin Cells
*Skin Care With Vitamin C
*How To Treat Dry Skin
*Ways to Protect Your Skin
*Is Dermabrasion The Right Choice for Your Skin
*How Nutrition Effects Your Complexion
*Skin Creams and Wrinkle Creams
*The Effects of Sun on Your Skin
*Resources


Your License

Personal use rights. It can not be re-sold.


Note:

This product comes with NO warranty or guarantee of any kind.

The author and distributor hereby disclaim all liability for the use of this product. You accept all responsibility by using/selling it.

You'll get a 260.1KB .PDF file.
More products from Smart Life Skills