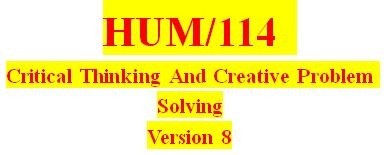 HUM 114 Week 5 Critical Thinking Training Session
**********************************************************
HUM 114 Entire Course Link
https://uopcourses.com/category/hum-114/
Contact Info:
[email protected]
**********************************************************
HUM 114 Week 5 Critical Thinking Training Session
Instructions
Review all the content from this course w/your Learning Team.
Create a well-organized training that culminates and summarizes everything learned in this class that includes 3 of the 6 bullets below. Your audience will be individuals ranging from federal/state government officials and committee members, as well as upper level management administrators. Remember, they are quite familiar w/critical thinking so be sure to meet their needs.
• Definition of critical thinking
• Different levels of critical thinking
• Overcoming barriers to critical thinking
• Perspectives and opinions - issues and problems
• How to solve problems and make decisions
• Strategies to use critical thinking for the future
Remember to include the following when presenting:
• Creative and critical thinking - thinking outside the box
• Facilitate/follow the presentation rubric
• Format using APA guidelines
• Professional, respectful presentation
Submit the assignment to the Assignment Files tab.
You'll get 1 file (506.1KB)