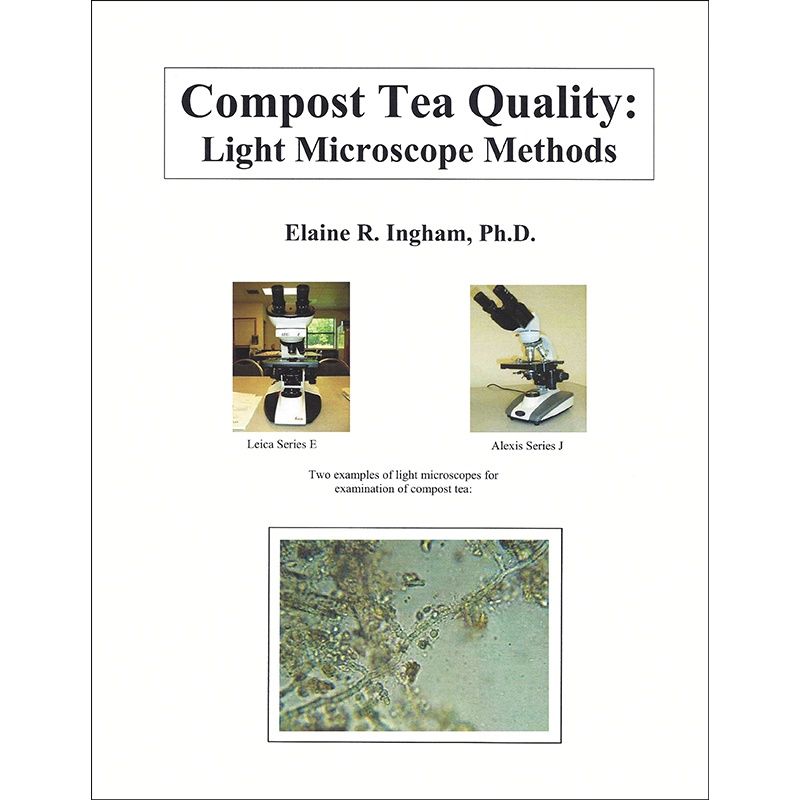 Compost Tea Quality: Light Microscope Methods
This is an Ebook .pdf version. This is not a hard physical copy of the book. The Compost Tea Quality: Light Microscope Methods is written by Dr. Elaine Ingham. For serious students of compost tea who want a relatively easy way to determine whether their tea contains the biology it needs to obtain all the possible benefits that good sets of bacteria, fungi, protozoa, and nematodes provide. The eBook was designed with the idea of helping people with examples of the organisms they will see in a microscope so they can look and compare. The book helps viewers assess density of the organisms without actually having to count them, or allowing comparison of fungal diameters to help make the decision about "more likely beneficial" or not. The ebook lets you know what bacteria, fungi, protozoa, and nematodes look like using the simplest microscope system you are likely to be able to afford. Remember that you can look at any material -- from your yoghurt, to soft drinks, to lettuce leaves, or cow manure. What is in your compost? Your soil? Your compost tea? Your mulch? Is the life your plants need there, or not? With this ebook you will learn a standard way to ensure that you are getting numbers of bacteria in the right ballpark range -- that you are getting the correct diameter for the fungi you are looking at, and thus are able to determine whether these are beneficial fungi. Is this a flagellate, amoeba, or ciliate? This ebook helps you understand what you are seeing through the microscope. For those who want to know what their plants will be able to grow without needing pesticides, inorganic fertilizers, or tillage, this ebook is a must. If maximum diversity of beneficial bacteria, fungi, protozoa, and nematodes is added, then the plant gains a large component of helper, disease-protecting, water-retaining, nutrient cycling organisms. Additionally, enhanced soil structure, water retention, disease suppression, and nutrient cycling will develop and improve in a short period of time. The difference between never tested "snake- oil" products and products that do the job is really pretty simple. By buying this ebook, you are probably embarking on the process of learning this for yourself, so you can check-up on the claims made by products. 63 pages. 8.5 x 11 inch format.
You'll get a 126.9MB .PDF file.
More products from Dr. Elaine Ingham