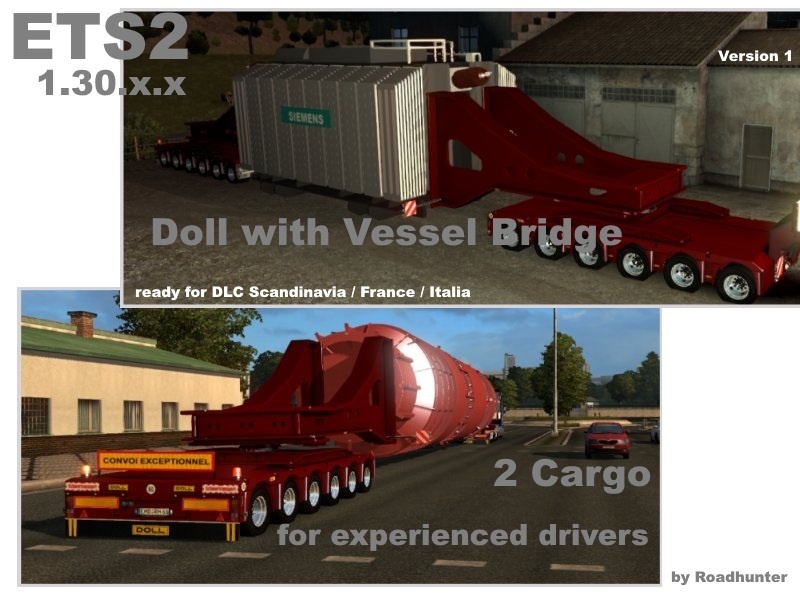 Doll 6 x 6 Axles with Vessel Bridge V1.0
ETS2 1.30.x.x + DLC Scandinavia / DLC France / DLC Italia
Doll Trailer with Vessel Bridge 6 and 6 Axles
Version 1.0
Standalone 2 Cargo
Cargo : Kesselbruecke Transformator Weight : 95 tons
Cargo : Kesselbruecke Siemens Trafo Weight : 96 tons
Before you start a job, Think about whether the trailer comes from the company
You can not get through everywhere. Do not contact me if there are problems with getting through.
- no reversing possible
Bevor du einen Job annimmst, überlege Dir ob die Kesselbrücke sich aus dem Firmengelände fahren läßt
Es geht nicht überall. Kontakte mich nicht wenn der Trailer nicht durch den Strassen passt.
- kein Rückwärts fahren möglich
Doll Vario by Roadhunter
Wheels by Ventures
Cargos by Roadhunter and SCS and Unknow
Too Install :
Unpack the"ets2_1.30.x.x_Doll Vessel Bridge 12 Axle Pack _V1.0" rar file.
In the file you find the folder "doll_6_6_bruecke".
Copy this folder and paste into your Mod folder.
ETS2 don´t need an "scs" file.
Does not necessarily need a scs file
aktivate
All updates on the trailer will be free of charge for the clients
and have fun
=====================================================
Visit
my page
http://roadhunter-z3d.de.tl/
=====================================================
English
It is not allowed to upload this mod to other hosters.
It is permissible to offer this mod with the link linked by me in other forums.
Filehoster :
http://sharemods.com
It is not allowed to change this trailer must be equipped with charge and then to
Download offer.
It is allowed to change this trailer for private purposes equip with charge.
Translation with Google
Deutsch
Es ist nicht erlaubt diesen Mod auf einen anderen Hoster zu Uploaden.
Es ist nur erlaubt diesen Mod mit dem von mir zur verfügung gegebenen Link in anderen Foren
anzubieten.
Es ist nicht erlaubt, alle Doll Trailer zu einem Pack zusammen zu fügen und zum Download anzubieten.
Es ist nicht erlaubt, den Doll Tieflader mit anderen Ladung zu versehen und zum DL anzubieten.
Es ist erlaubt, den Doll Tieflader für Private zwecke umzubauen, und mit neuer Ladung auszurüsten.
You'll get a 13.4MB .RAR file.