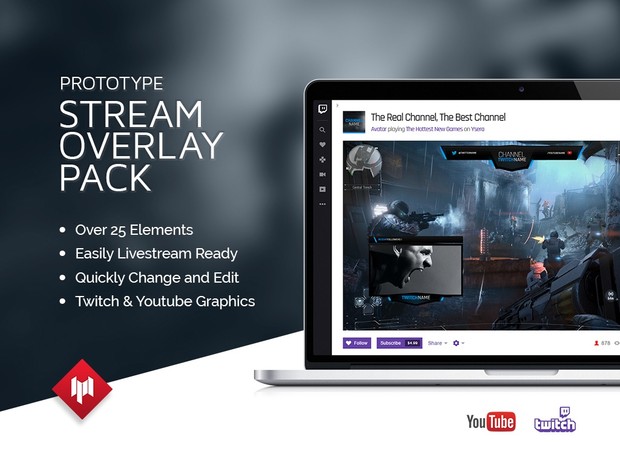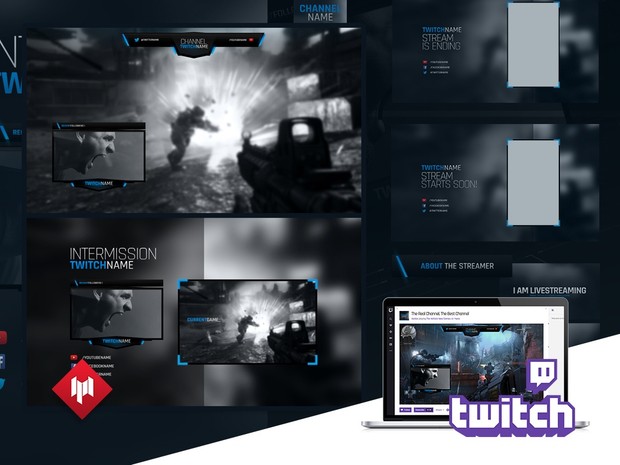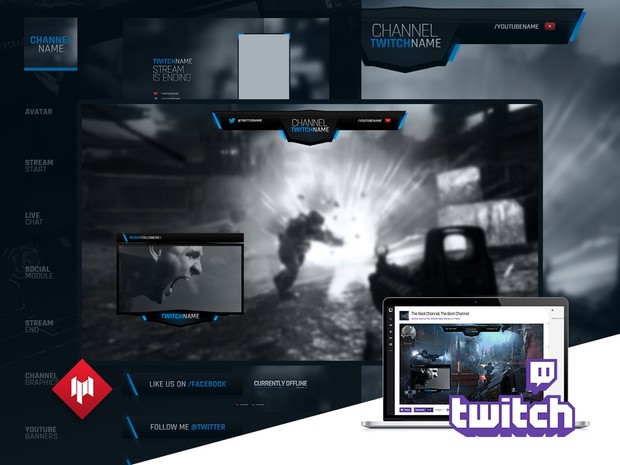 Livestream Overlay Pack | Prototype
Livestream Overlay | Prototype
It's hard to get a new channel set up on your favorite streaming platform. You need to stand out, to look like you are worth watching and will stay around providing entertainment. This is a really elegant, complete start for any new channel looking to stay in the game.
Be Bold, Get Noticed, Pick up Subscribers!
---
Do I need special software to edit this?
You need Adobe Photoshop CC to edit this template, it's very well 
organized and easy to navigate.
---
 What is included in the download? 
These elements are included:
Channel Avatar (psd, jpg)

Channel Banner (psd, jpg)

Channel Headers (psd, jpg) -About us, Donate, Facebook, Twitter, Youtube

Stream - Pre stream annoucement (psd, jpg)

Stream - Overlay (psd, jpg)

Stream - Webcam container (psd, jpg)

Stream - New subscribed announcement (psd, jpg)

Stream - Intermission graphic (psd, jpg)

Stream - End stream announcement (psd, jpg)

Channel Offline (psd, jpg)

Youtube Livestream Notice (psd, jpg)

---
 Is it easy to edit the files?
If you have a basic understanding of photoshop you'll be fine.
---
 Are the font or images included?
The font Rajdhani is freely available via Google Fonts and included in this pack for convenience. The game screenshot shown in the first product image is not.
---
How should I structure my livestream?
There are a number of popular livestream overlay programs you can choose from. Try a few and see what you like the most.
---
If I need help can I contact you?
For most questions just ask, I like to off fair support to all my customers.
---
 Is there anything else I should know? (FAQ) 
A -
Yes you can remove the chatbox from the intermission screen
A -
No the screenshot in the product images is not included in the pack
A -
I'm sorry no I can't provide a stream setup for you but it's easy and there are a lot of tutorials around that can help get you up and running in a few hours.
You'll get 1 file (26.6MB)
More products from EmpireGames.ca /Express