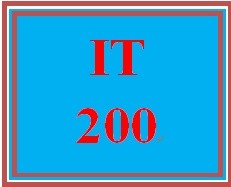 IT 200 Week 3 participation Lynda.com® Common Forms of Cybersecurity Attack
IT 200 All Participations Link
https://uopcourses.com/category/it-200-participations/
IT 200 Week 3 participation
Lynda.com
®: Common Forms of Cybersecurity Attack
What is a Firewall? 
Class,
Firewalls are often mentioned here as an important element when it comes to protect ourselves from common forms of cybersecurity attacks. 
But, what are they? how do Firewalls really work? 
How many types of Firewalls are out there? 
And most important, what are their benefits and vulnerabilities?
You'll get 1 file (40.5KB)