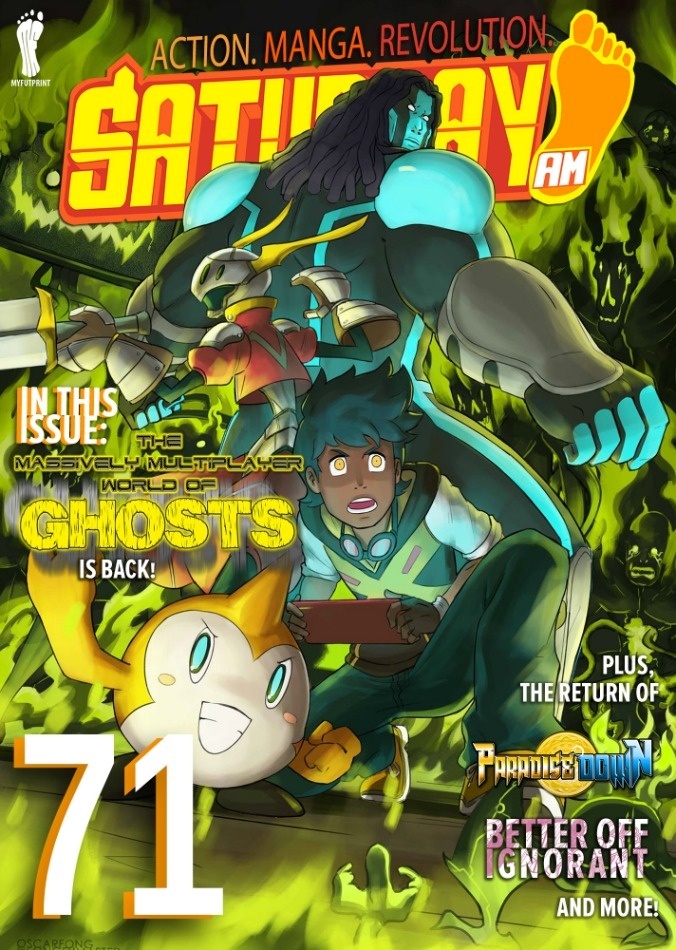 Saturday AM #71
Saturday AM has MASSIVE ANNOUNCEMENTS and what better place to kick them off than one of our BIGGEST ISSUES with one of our MOST IMPORTANT series.

The #countdownto75 begins here in our 71st issue and we kick off with the series that LAUNCHED Saturday AM as a brand and magazine.

Meet Nilay Rao, an Indian-American main character, who is on a journey to be the NUMBER ONE player within our MASSIVELY MULTIPLAYER WORLD OF GHOSTS. Five years in the making-- this series combines the original idea with novelist, Alexander Oladokun and beloved artist, Oscar Fong. If you love YU GI OH and POKEMON - then get your fingers ready. This new title also debuts a new format that holds BIG PLANS for Saturday AM!

But that's not all -- some of our biggest series RETURN in this issue. PARADISE DOWN by Jaime Molina, SPOON by David Yoon, BETTER OFF IGNORANT by Otutuloro and Harvey, SOUL BEAT by Morganne Walker, and the one and only SAIGAMI by Hungarian Andrea Voros.

Likewise, we have two #summerofmanga titles for YOU TO REVIEW. What will you think of KASAI from Romania and MARA The MARTIAN from America.

For over 3 years and 70's issues we've set the standard for DIVERSE MANGA by not making it one race or one country or one gender or one genre. We make comics for EVERYONE by EVERYONE and what better way to celebrate our BRAND and MISSION than to appear at A MAJOR CONVENTION THIS SUMMER.

Where will it be?
Find out inside!
You'll get a 219.4MB .PDF file.
More products from Saturday AM