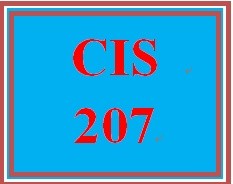 CIS 207 Week 1 Individual: Reflection of Personal IT Background
Entire Course Download Link
https://uopcourses.com/category/cis-207/
CIS 207 Week 1 Individual: Reflection of Personal IT Background 
Resource: Student Survey Template
Update the Title page on the Student Survey Template.
Reflect on your IT experience and background, and provide a response to each question.
Click the Assignment Files tab to submit your assignment.
IT Experience Pre-Assessment   
What is the degree you are seeking and your area of concentration?  What position are you seeking once you graduate?  
How many college level IT specific courses have you taken at any school?     
If you have taken any, what were they?     
Do you have any experience working with or on a Business Information System?     
If so, which one(s) [HR, CRM, ERP, TPS]     
Do you have any work experience in accessing, inputting data using a computer?     
If so, for how many years?     
What are the top three software applications you use frequently not including Browsers or Office products?  
A.
B.
C.   
Do you have a Home network?     
If so, is it Wireless?  
Did you set it up by yourself?  
Do you use a Smartphone or other wireless device? Have you downloaded the University of Phoenix app?  
What device?      
If you downloaded the UOPX app, do you use the app to access the classroom?  
Do you use any other phone or tablet app to complete schoolwork?     
If so, what schoolwork do you use the app to complete? 
When you come across a technology word you do not know, where do you go to find out what it means?  
Are you currently or recently employed in an IT job? How long? In what functional area?  
What kind of things do you do, if any, to keep current on Information Technology topics? 
You'll get 1 file (29.0KB)
More products from UopTutorials