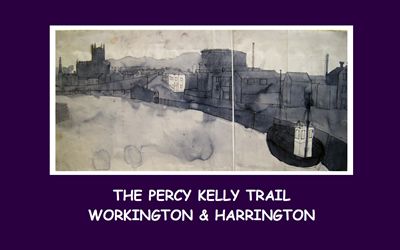 Workington Trail
Workington is not a tourist destination, nor is it Utopia but it is important as the town where Percy Kelly was born and grew up. This visit helps us understand him and his work. This trail tells the story of Kelly's childhood. He lived in the centre of town until he was 10 in an area of grey depressing streets. There were 3 adults and 7 children crammed into the little terraced house. The harbour and docks were just a short walk away - a wonderland to a child.

The trail emphasises the contrast.

This is the shortest and easiest of the six trails. You will spend time at the harbour in Workington where Kelly did his first drawings and walk past his home in Corporation Road and first school a little further along. It is easy to imagine him as a small child marching down to the harbour with a pencil and paper – often just a bit of cardboard packaging. You can see him toddling off to school with his twin brother John.
You'll get a 1.3MB .PDF file.