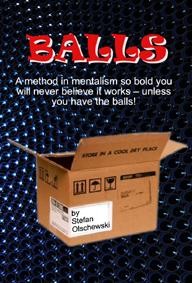 BALLS eBook (engl.)
A method in mentalism so bold you will never believe it works – unless you have the balls!

So what is "BALLS"?

Basically it is a no-budget version of the famous Master Prediction System, that everybody loves but only the pros are able to afford:

A sealed cardboard box is seen standing in full view or hanging from a stand – it can also be given to an audience member at the beginning of the show. Random people call out random things: dates, the amount of money in their pocket, holiday destinations – whatever you (or they) like.

The box is retrieved and opened by a spectator. Inside is a wooden cigar box which contains a single black envelope. The spectator opens it herself and reads out the prediction – of course all the details match!

Advantages:


·      Extremely low budget

·      Use any cardboard box

·      Use any cigar box

·      Use any envelope

·      A more "ungimmicked" look and feel compared to all the shiny boxes out there

·      No malfunctioning mechanisms

·      No electronics

·      No stooges

·      No difficult moves

·      Only a one-time-preparation

·      Can also be performed as a strictly one-man-effect (no secret assistant needed)


Sounds good? You bet!

It has been said that if you want to make sure that something will be forgotten, write a book about it. I think the bold little secret you are about to learn is so damn good that it should be forgotten immediately and only used by those who really appreciate the method.

So: are you one of those who realize what they are now holding in their hands or will you rather forget it as soon as you have read it?
You'll get 1 file (457.4KB)
More products from Stefan Olschewski