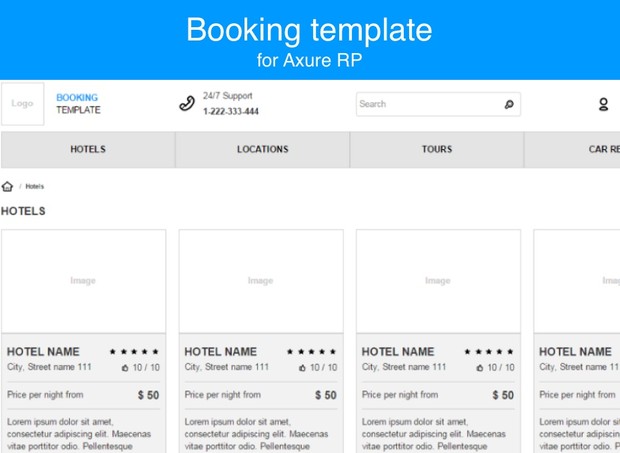 Axure template / Booking
Live demo:
http://hs6qb1.axshare.com/#p=home
This is a unique Axure template that contains everything needed to create a prototype of Booking hotel reservation, location, tour or anything. The prototype is fully adaptive and dynamic. Be sure to check how it works in demo mode.
TEMPLATE FEACHERS:
Responsive design
Using the new features in Axure we created 3 resolutions for the template:
- 1140, wide enough resolution for placing products, filters, and other content
- 768 resolution for tablets. This version retains all features of desktop version
- 320, permission for mobile devices. Please note that practically all features are available in this resolution. It is not just for decoration, it is a fully functional version
Don't forget to test this function in demo mode, simply turn the browser window to the desired size.
Unique pages
Booking template contains a list of unique pages that you will not find in any other template. Hotels, Locations, Tours, Submit booking, Profile, Search results. All these pages are unique and they can help you to create your website for booking anything.
Versatility
Booking template is very versatile. All pages are linked to each other, but this does not prevent you to customize the template to fit your needs. Hotel booking, tour or event, it's all there in this pattern. You will be able to save your time and spend it on more important things.
Axemplate - Best Axure templates and widget libraries.
With:
- FREE DEMO
- AXURE RP 7 ADAPTED
- RESPONSIVE DESIGN
- ADVANCED DYNAMIC
- MASTERS USAGE
- FREE NEW VERSIONS
Visit our wesite:
http://www.axemplate.com/
You'll get 1 file (1.7MB)
More products from Axemplate