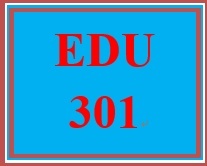 EDU 301 Week 2 Basic Skills Diagnostic Practice Exam
https://plus.google.com/u/0/108200033792883877670/posts/dWT4sDYbQKM
 EDU 301 Week 2 Basic Skills Diagnostic Practice Exam 
Review the Basic Skills Access Instructions.
Complete the Basic Skills Diagnostic Practice exam at the Teacher Test Prep website.
Create a screenshot document of your completed exam. The general steps are:   
Create a print screen or screen capture of your completed exam (varies by computer system).  
Open a new Microsoft® Word document.  
Paste the screenshot into document.  
Save the document.  
Click the Assignment Files tab to submit your screenshot.
You'll get a 97.3KB .ZIP file.