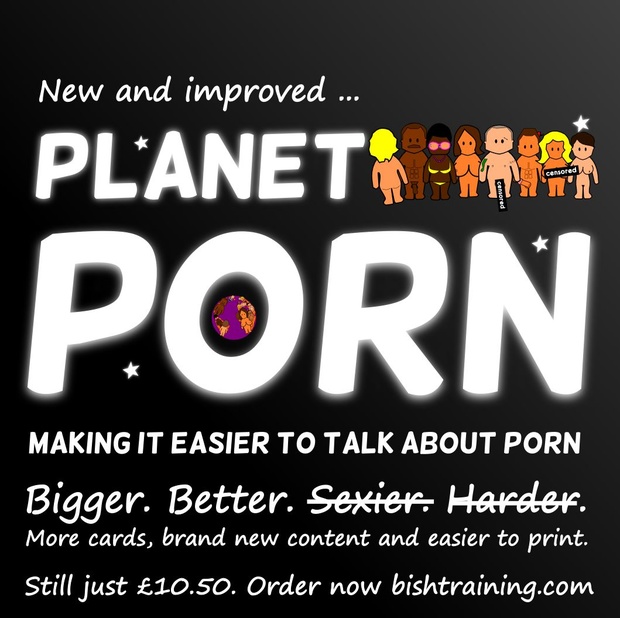 Planet Porn (new and improved)
"an amazing resource for opening up the topic and helping young people develop the media literacy and critical thinking skills they need to tell the difference between sex on Planet Porn and sex on Planet Earth." Charlie Glickman

A unique pack of resources for sex educators, teachers, parents, youth workers or anyone wanting to talk with teens about porn.

This resource aims to offer activities and ideas to help young people to understand what porn is and what it isn't. To understand that it is entertainment for adults, rather than sex education for young people. It's not anti-porn or pro-porn, it tries to enable young people, and those working with them, to have a conversation about porn and to be able to think about it critically.

As well as talking about porn this resource enables conversations around self-esteem, body image, sexual decision making, boundaries, pleasure, orgasms, communication, safer sex, sexual safety, the law, feminism, equality, lust and love, emotions, relationships, masculine norms, hetero-normative scripts, sexuality and oppression.
What's in the pack?

The pack contains a number of activities and resources which all come in a pdf and a powerpoint document: so you have the choice to print the resources out or use them as slides to teach with and to move the images around to suit.

Planet Porn Game

A straight forward card discussion game. Take it in turns to decide whether the statement belongs on 'Planet Earth' (real life sex) or 'Planet Porn' (porn sex). There are 36 cards with different statements and they each have an accompanying card which provides additional information and further points for discussion.

Porn Thoughts

A simple fun activity to remind people that what they see in sexy modelling or porn is a representation of a fantasy. They are real people doing real things, but they are working to present a version of sex and sexuality which isn't real.

Porn Debate

This resource tries to be even handed and doesn't attempt to tell people whether porn is good or bad. This activity gives young people the chance to think about and to build on their own values around various ethical questions in porn.

Porn Challenge

This activity challenges people to think of ways to present sexy scenes and images which are safe, promote equality and diversity and don't make assumptions about who may be watching porn. Use the cartoon images from the pack or use stickmen to create ethical porn.

Dear Doctor Love

A problem page activity which explores relationship issues like trust, intimacy, boundaries, safety, jealousy, independence, self-esteem and communication through the medium of problems that a partner of a pornstar or sexy model might face.

Is It Legal, Is It Right?

This activity provides a brief factual analysis of current UK law around porn. It also presents various scenarios relating to porn which may be relevant to many young people, raising various ethical issues around sex tapes, watching porn under age and privacy.
How to Buy

You can purchase the entire teaching pack for just £10.50 (see below) via paypal download, or £25 for a CD rom (if you can only pay via invoice).

For a free sample of the Planet Porn game please scroll down to the bottom.
Planet Porn Resource Pack £10.50 (electronic download)

The fast, easy and cheapest way to get this resource. Pay with your credit/debit card safely and securely via paypal below, just click 'buy now' (you don't need a paypal account to do this). Once payment is processed you should be taken to a page with a download link, please just download from there.

You should also get a download link via email (though some folk haven't been receiving their emails, so do check, if you don't get an email instantly please check your spam filters, if it isn't there please email me bishtraining at gmail dot com and I'll send the resource to you manually). All downloads expire in 2 days.
You'll get 1 file (26.3MB)
More products from Bish Training