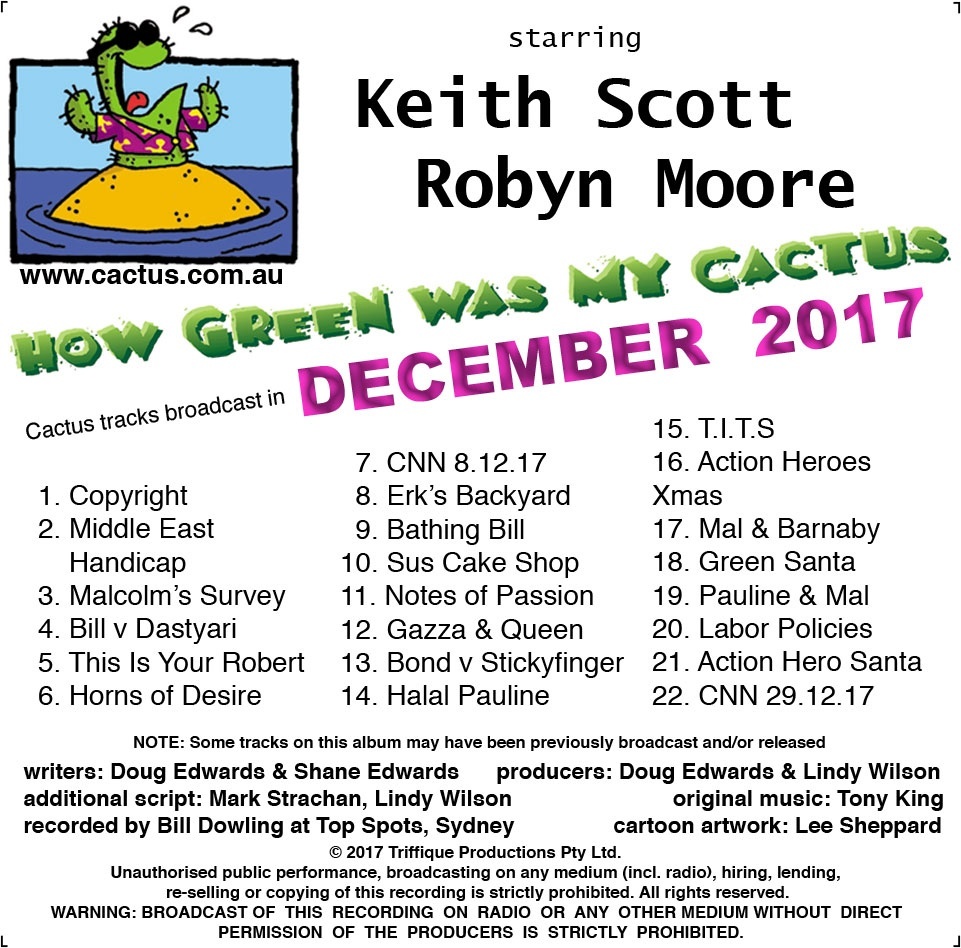 CACTUS - December 2017
CACTUS
DECEMBER 2017
TRACKS
1. Copyright: All material downloaded is copyright.Unauthorised public performance,broadcasting on any medium (including. radio),hiring,lending,re-selling or copying of this recording is strictly prohibited.All rights reserved. ©2017 Triffique Productions Pty Ltd
2. MIDDLE EAST HANDICAP: The next race on the card is brought to you by Weapons-R-Us. If you're thinking small arms, big arms or no arms at all, think Weapons-R-Us.
3. 6656 MALCOLM'S SURVEY: Tony Abs accuses posties of stealing all the 'no' votes during the same-sex marriage postal survey. Tony says all posties are gay – they have baskets on their bikes.
4. 6657 BILL v DASTYARI: Thanks to Scam Dastyari's acceptance of Chinese cash, the Labor Party now can't be seen with a dim sim without looking dodgy.
5. 6658 THIS IS YOUR ROBERT: Zimbabwe's ex-president Robert Mugarbage reveals that the 200 billion Zimbabwe dollars he stashed in the Caymans for his retirement is worth about 8 US dollars. 
6. 6659 HORNS OF DESIRE: From the Cactus Library of True Romance, Haaaartley Moistgusset presents the real-life love story of a man called Barnaby and a billionaire cattle baroness.
7. 6660 CNN 8.12.17: Sandra Silly's top story: Malcolm Talkbull explains that he cancelled a whole week of parliament because of the dual citizenship expulsions – he couldn't get a quorum.
8. 6661 ERK'S BACKYARD: Radio talkback genius Genghis Porkbun reveals that disgraced tv gardener Don Erk has even been molesting dummies in the window of Myer.
9. 6662 BATHING BILL: Flopposition leader Bill Curly is happy with his performance in the opinion polls. In fact he hasn't been happier since he bought slippers that have pen holders.
10. 6663 SUS CAKE SHOP: Hey LGBTIQ folk! Want to get married but afraid the local cake shop bigot won't bake you a wedding cake? You need Susware's new chain of suburban marriage equality cake shops, GayMart!
11. 6664 NOTES OF PASSION: Haaaartley Moistgusset with another bodice-ripping extract from a real-life story of true love. Mal Talkbull is in bed with the Big Four Banks.
12. 6665 GAZZA & QUEEN: Big Gazza Roidman seeks Queen Bessie's comments on the Ashes. They last met at the 2006 Commonwealth Games when Gazza lent Bessie his hanky to remove pigeon crap from her hat.
13. 6666 BOND v STICKYFINGER: Mal Talkbull hires James Bond to find out who has been telling Chinese spies that their phones are bugged. Bond suspects Scam Dastyari, alias Stickyfinger. 
14. 6667 HALAL PAULINE: Malcolm Talkbull insists that the Ferrari he wants to give Pauline Hatful is not a bribe to gain her support, but Pauline tells him to 'take his tricky bribes back to where the sun don't shine'.
15. 6668 T.I.T.S.: Unimpressed by Flopposition leader Bill Curly's dithering, his colleagues enrol him in the Teamwork and Inspirational Training Service. Otherwise they'll put him in an electric pencil sharpener so there's some point to his existence.
16. 6669 ACTION HEROES XMAS: Radio talkback agony uncles Arnie and Sly discuss whether Christmas celebrations offend other religions. Sly insists that the right to bear Christmas trees was what the Vietnam War was all about.
17. 6670 MAL & BARNABY: The National Party leader Barnaby Joh believes the Chinese are buying up our land so they can it take home to build a second storey on China.
18. 6671 GREEN SANTA: Green Party godfather Richard Corleone and his flower-children, Adam Bran and Sarah Handsome-Rack, review Greens policy on Santa Claus.
19. 6672 PAULINE & MAL: After the Canetoad County election results, Pauline Hatful and Mal Talkbull drown their sorrows. In fact Mal drowns so many sorrows that he falls off his wallet.
20. 6673 LABOR POLICIES: The Labor Party has a bit of a problem with policies, which is like saying the Titanic had a bit of a problem with rising damp. To make matters worse, ex-PM Kevin Krudd is back on the scene.
21. 6674 ACTION HERO SANTA: Radio talkback agony uncles Arnie and Sly give advice on how to tell children all about Santa Claus. It's a delicate subject for parents who like their kids.
22. 6675 CNN 29.12.17: Sandra Silly with news, Richard Richard with showbiz and Big Gazza with sport. The top story: scientists warn that global warming may soon become bad enough to thaw out Peta Credlin.
NOTE: This recording or parts thereof may have been previously broadcast and/or released.
COPYRIGHT: All tracks and material ©2017 Triffique Productions Pty Ltd. All rights reserved. All material downloaded is copyright. Unauthorised public performance, broadcasting on any medium (including. radio), hiring, lending, re-selling or copying of this recording is strictly prohibited. All rights reserved.
You'll get a 43.0MB .ZIP file.
More products from doug_e