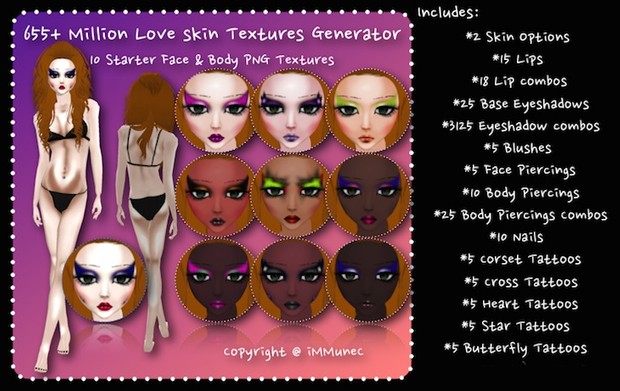 655+ Million Love Skin Textures Generator
Over 655 Million Combination Love Skin Textures Generator created for IMVU Products, designed by iMMuneC @ IMVU. 10 starter Skin Face and Body Texture PNG files and .xcf Files included. File has a total of 15 Skins, 2 Skin Options, 15 Lips, 18 Lip Combos, 25 Base Eyeshadows, 3125 Eyeshadow Combos, 5 Blushes, 5 Facial Piercings, 10 Body Piercings, 25 Body Piercing Combos, 10 Nails, 5 Corset Tattoos, 5 Cross Tattoos, 5 Heart Tattoos, 5 Star Tattoos, and 5 Butterfly Tattoos. All textures and layers can easily be relocated, resized, and hue changed.
Mesh:
http://www.imvu.com/shop/product.php?products_id=22691554
Exclusive Product Textures:
http://mentalmorriscreations.weebly.com/product-textures.html
FAQ:
http://mentalmorriscreations.weebly.com/faq.html
If you have any problems opening this ZIP File, please do not hesitate to contact iMMuneC via this link:
http://www.imvu.com/catalog/web_send_message_widget.php?recipient_id=18004583
No refunds will be given out. Please make sure you can open .xcf, .png, .jpeg, and/or .zip files before you make this purchase.
You'll get 1 file (5.8MB)
More products from MM_Rachel (iMMuneC)