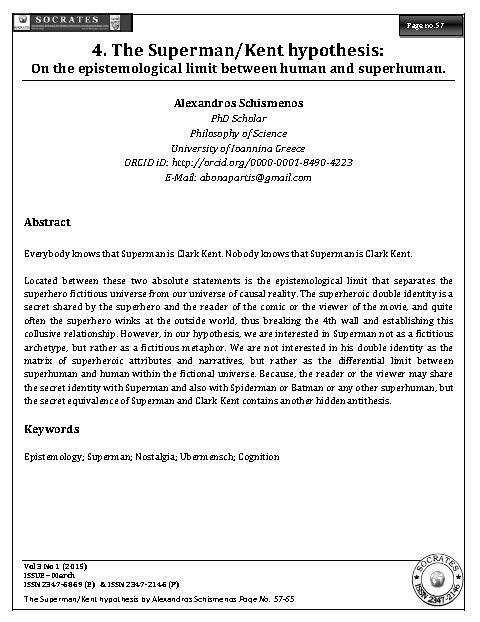 The Superman/Kent hypothesis: On the epistemological limit between human and superhuman.
Everybody knows that Superman is Clark Kent. Nobody knows that Superman is Clark Kent.

Located between these two absolute statements is the epistemological limit that separates the superhero fictitious universe from our universe of causal reality. The superheroic double identity is a secret shared by the superhero and the reader of the comic or the viewer of the movie, and quite often the superhero winks at the outside world, thus breaking the 4th wall and establishing this collusive relationship. However, in our hypothesis, we are interested in Superman not as a fictitious archetype, but rather as a fictitious metaphor. We are not interested in his double identity as the matrix of superheroic attributes and narratives, but rather as the differential limit between superhuman and human within the fictional universe. Because, the reader or the viewer may share the secret identity with Superman and also with Spiderman or Batman or any other superhuman, but the secret equivalence of Superman and Clark Kent contains another hidden antithesis.
You'll get a 679.2KB .PDF file.