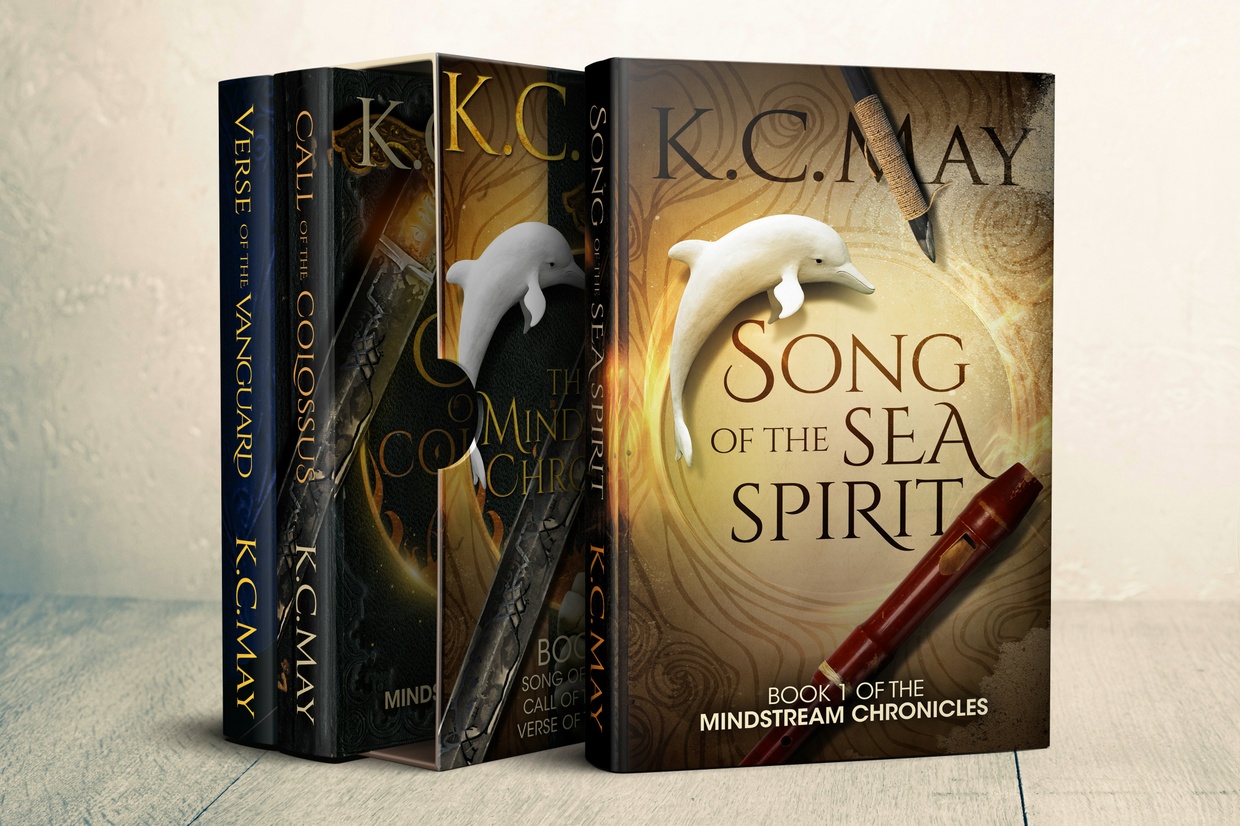 The Mindstream Chronicles Box Set 1: Books 1-3 (Kindle)
In a world of endless war, one woman learns the key to achieving peace—and the magical power to carry it out. But when profiteers discover her secret, to assure her silence they threaten everything and everyone she holds dear. 

They never expected her to fight back.

If you like unique magic systems, engaging characters, and fiery battle scenes, then you'll love KC May's incredible tale of courage, devotion, and revenge masquerading as justice.

Click to buy the story readers call "delightfully NOT...a story we already know."


This box set contains books 1-3 of The Mindstream Chronicles.   

Song of the Sea Spirit  

Jora Lanseri possesses an uncommon skill--the ability to enter the Mindstream to witness any event in the present or past. Her marriage plans are interrupted when two men arrive in her hometown and insist she accompany them to the capital to serve Serocia with her Mindstreaming skill. After being inducted into the Order of Justice Officials and beginning her training as a Truth Sayer, she witnesses a shocking crime, jeopardizing the lives of everyone she cares about--including her own.  

But Jora has a secret. She's been slowly unraveling the mystery of the Spirit Stones, the ancient, singing sculptures that are at the very heart of the crime. Will the sculptures' unfolding mysteries help her bring the perpetrator to justice, or will they lead Jora down a path of destruction that threatens everything--and everyone--she has worked to protect?     


Call of the Colossus  

Condemned murderer—and now Gatekeeper—Jora Lanseri is offered a chance at redemption in exchange for her silence. Driven to protect her only remaining brother, she must covertly investigate the dark and hidden forces smuggling the life-giving godfruit to Serocia's enemies and perpetuating the long and bloody war.  

Aided by the dolphin Sundancer, Jora discovers more long-forgotten secrets of the Spirit Stones—including the ability to call the Colossus, the ancient warrior statues positioned around Jolver. But the Colossus warriors had fought against the previous Gatekeeper in the war known as The Great Reckoning. Can Jora convince them to join her struggle for peace and justice, or will they side with her nemesis and use her brother against her?     


Verse of the Vanguard  

While attempting to unite Serocia's enemies under a long-awaited peace treaty, Gatekeeper Jora Lanseri must face off against a powerful foe whose only purpose for existence is her destruction.  

The continuing tale of Jora Lanseri, whose ongoing battle of magic and wits against her nemesis leads to consequences neither of them could possibly have imagined.  


Click Buy Now to get all three books in the box set and save!
You'll get a 2.4MB .MOBI file.