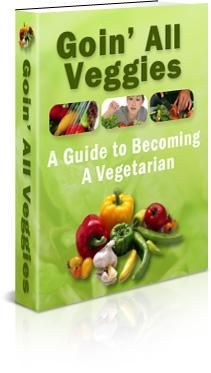 Goin' All Veggies: A Guide To Becoming A Vegetarian
Who Else Wants to Discover How to Quickly & Easily Become a Vegetarian – & Enjoy All the Benefits That Accompany It?

It's Never Been Easier to Begin Eating a Vegetarian Diet Thanks to the "Goin' All Veggies: A Guide to Becoming a Vegetarian" eBook!

This comprehensive guide contains everything you need to know to make a healthy transition to a vegetarian diet and to maximize the benefits of your new diet. You'll learn:

*How to get the nutrients you need while eating vegetarian meals you enjoy!

*Why the saying "you are what you eat" couldn't be more true!

*The four types of vegetarian diets – and how to choose which type is right for you!

*What our ancestors ate – and how this is still directly impacting the health and our digestive systems today!

*How to transition to a vegetarian diet – you'll be amazed at how easy it is to do when you follow these simple tips!

*Why the animal agribusiness has been called "one of the cruelest practices imaginable" – and why a primarily plant-based diet is a more humane way to enjoy the fruits of the Earth

*7 physical conditions that are directly impacted by a vegetarian diet – discover why many people say they have never felt better in their lives within just weeks of switching to vegetarian diet!

*Exactly what you need to make the transition to a vegetarian diet as easily as possible – follow these tips and your switch to a meat-free diet will be quick and pain-free!

*Plus, this ebook is jam-packed with easy-to-make, great-tasting vegetarian recipes!

So What Are You Waiting For?

Order Your Copy of the "Goin' All Veggies: A Guide to Becoming a Vegetarian" eBook Today …


Your License:

Personal use rights only. You can not resell this.


P.S. The fact of the matter is that most people are overweight and obese. This is because we eat too much meat and too much fat. Problems such as high blood sugar, Type II diabetes, high cholesterol and other health-related problems are caused by our diet. All of these problems can be prevented by becoming a vegetarian. This ebook will show you how to do that and the difference that eating vegetarian can make in your health in a short period of time! Order today – and receive this valuable ebook for just $1.99 before it is too late!
You'll get a 251.4KB .PDF file.
More products from Smart Life Skills