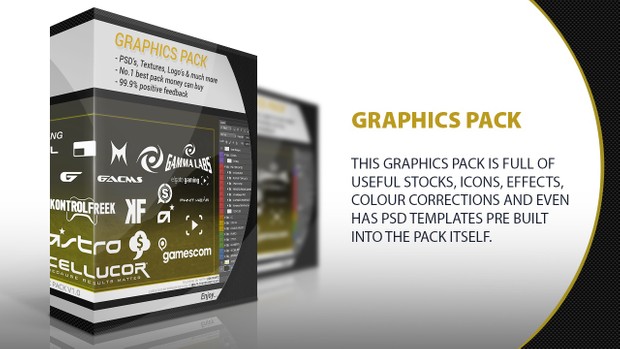 'MEGA' Graphics Pack
This is a very in depth pack & a great purchase, especially the PSD files that are included as 2 of them are other sellfy listings (Advance Warfare Rebrand & Designer twitch overlay) so this is a great way to save money.
The picture above gives you a small breakdown of what you are receiving in this pack.
Everything is well organised into their own individual folders.
Below is what is included:
- In the EXTRAS folder you will find x2 links to x2 downloads of 2000 fonts and 500 mockup designs hosted by @cssauthor and @MdxDesign
- In the PSD TEMPLATES folder there are many PSD files which are all smart layers so all you need to do is double click the thumbnail layers and it will open the PSD in another tab and any changed that you save will update on the GFX pack.
The templates are as follows:
- eSportsDLC PSD
- Revamp Template
- Designer Twitch Overlay & Offline image
- Massive iPhone Gamma/GFuel wallpaper pack
- x5 Desktop Wallpaper pack
- Advanced Warfare Rebrand
- Advanced Warfare Box/Disc art
In the CC Folder, well it is pretty self explanitory you will find a nice CC which is customisable by just double clicking the adjustment layers and editing to your liking.
There is approx 50+ stocks in the STOCKS folder ranging from Wallpapers, scenery/manipulation stocks and various textures.
In the COLOUR PALLETE folder you will find 100 different colours which are all renamed to their # colour code like #ffffff for example and they are all smart shapes so they are scalable and easy to edit.
The FLARES folder is much the same as above, there are 100 in total and they are smart layers too, so they can scale larger than they are saved at, so you can just grab they layer scale it up and change blend mode to SCREEN and you are good to go.
The STYLES & GRADIENTS have x50 of each and same as above they are smart shapes so very easy to use and comes with on screen instructions how to use them.
The SOCIAL MEDIA icons folder has 25 social media icons consisting of
- Facebook, Twitter, Instagram, Vimeo, Behance, Playstation, Deviantart, YouTube, Digg, LinkedIN, Twitch and many more...
The SPONSOR icons folder has 25 icons consisting of
- Scuf Gaming, GFuel, Fullscreen, Machinima, GammaLabs, Kontrol Freeks, Elgato, FaZe, Dare, SoaR, Sellfy, Gamescom and much more...
You are welcome to use all of the content in this pack to make your own projects all I ask is that you do not Share, Giveaway or Sell this pack under any circumstances as it affects my sales/earnings.
If you need any help after purchasing this pack the fastest way to get hold of me is via twitter @GraphicWizard_ or for more in depth questions then you can email me at
[email protected]
Enjoy your Purchase.
** No Refunds.
You'll get 1 file (563.4MB)
More products from Graphic Wizard