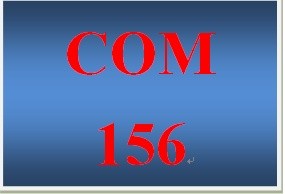 COM 156 Week 9 Research Paper
COM 156 Entire Course Link 
https://uopcourses.com/category/com-156/
COM 156 Week 9 Research Paper
Write
a 1,450- to 1,700-word research paper.
Include 
the following elements in your research paper:


Title page


Introduction with a thesis statement


Body paragraphs with supporting evidence, including in-text citations


Conclusion


Reference list of citations containing at least three to five sources--at least two from the University Library


Review
 the University of Phoenix Material: Final Project Overview and Timeline to ensure you have completed every step required for the final project.
Use 
the University of Phoenix Material: Proofreading Checklist to proofread your final draft. If you cannot answer yes to an item in the proofreading checklist, revise your paper accordingly. 
Format
 your paper consistent with APA guidelines.
Post
 your final completed research paper as an attachment.
Review 
the additional resources from the Center for Writing Excellence for further support:


Applying Critical Thinking Principles to your Writing


You'll get 1 file (34.8KB)