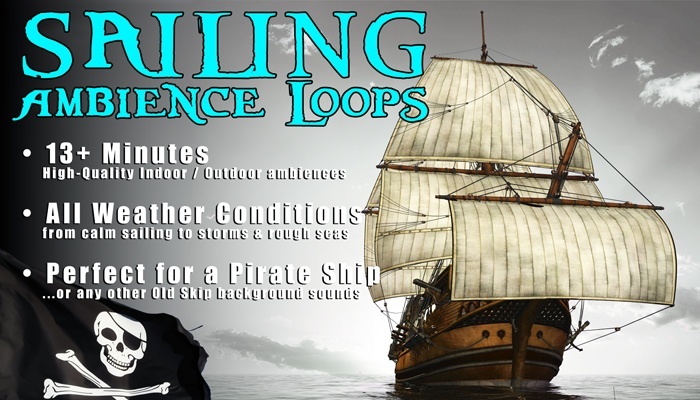 SHIP SAILING AMBIENCE SOUNDS - Old Pirate Ship Background Loops [Royalty Free SFX]
Sounds of the SHIP SAILING AT SEA, perfect for pirate ship background sound effect, or any other Old Wooden Ship background loops. Featuring nearly
15 minutes
of High-Quality wood cracking background noises, ship
outdoors and indoor
ship cabin / interior sounds,
all weather conditions
from calm sailing to rough seas.
While sounds very detailed, we have designed entire sound pack to feel relaxing even after looping it continuously for hours! We have put a lot of love and effort in mixing and mastering this ambience SFX, which will add a lot of value to your project! Ideal for any video or game that requires
Pirates of the Caribbean
type of a ship, for your film or game, or even a relaxation audio background.
SOUND PACK CONTENT:


Calm Cabin Indoor Ambience Loop [1:00]


Rough Weather Sailing Ambience Loop [2:50]


Calm Indoor Squeaky Ambience Loop [10:00]


Calm Sailing Outdoor Ambience Loop [0:53]


Each sound is included in both, High-Quality WAV & MP3 formats.
You'll get a 167.6MB .ZIP file.
More products from FUSEHIVE ASSET STORE