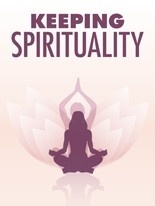 Keeping Spiritually
"Get All The Support And Guidance You Need To Be A Success At Connecting Spiritually!"

This Book Is One Of The Most Valuable Resources In The World When It Comes To Being A Spiritual Soldier!

Who Can Use This Book?

- Entrepreneurs

- Internet marketers

- Network marketers

- Life Coaches

- Personal Development Enthusiasts

- Self Improvement Bloggers

- Web Publishers

- Writers and Content Creators

- And Many More!

In This Book, You Will Learn:

Spiritual Resolutions Basics Be Good To Yourself!

Keep Up With Prayer
Set Aside Time Every Week To Study Teachings
Set Aside Time To Meditate
And so much more!!

DOWNLOAD your Copy and Claim your "Master Resell Rights" inside. 
You'll get a 825.0KB .ZIP file.
More products from BestBuy Digital