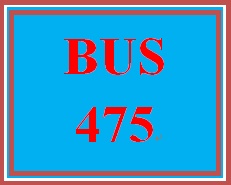 Marketing head of Tosel Inc.: Our company has been using an advanced CRM platform, Inito, which is
Entire Course Link
https://uopcourses.com/
https://plus.google.com/u/0/108200033792883877670/posts/dWT4sDYbQKM
Marketing head of Tosel Inc.: Our company has been using an advanced CRM platform, Inito, which is popular among businesses for its sophisticated functionality. Inito allows us to store customers' psychographic data as well as their recent shopping behavior. However, since we began using Inito, we have not been able to generate a significant greater number of leads. Clearly then, using CRM software does not help in generating any business.
Which of the following statements, if true, would weaken the argument above?
It is difficult to create a successful marketing strategy for a customer base that greatly varies in demographic and psychographic factors.
Tosel has not invested the resources required to maintain its database of customers' psychographic data and shopping behavior.
Inito is the most commonly used CRM platform.
Tosel has integrated Inito into the other information systems used by the company. 
You'll get a 95.0KB .DOC file.