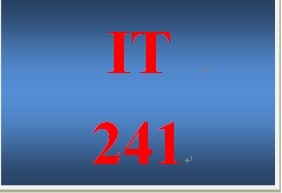 IT 241 Week 1 Wireless Network Presentation
IT 241 Entire Course Link 
https://uopcourses.com/category/it-241/
IT 241 Week 1 Wireless Network Presentation
Resources:
 Ch. 1 & 10 of 
CWNA Certified Wireless Network Administrator Official Study Guide
Develop
 a 12- to 14-slide presentation, using Microsoft® PowerPoint® or another multimedia tool, based on the scenario in Appendix C.
Consider 
the following questions as you draft your response:


How might wireless technology meet the network needs of Speedy Delivery?


How might a WLAN be more advantageous than a wired network for Speedy Delivery's needs?


Address 
the following points in your presentation:


Wireless mobility


Ease and cost of installing a wireless network


Ease of network modifications


Increased network reliability


Speedier disaster recovery


Radio signal interference


Wireless security


Potential disadvantages to using a wireless network


Reasons why the advantages of a wireless network outweigh the identified disadvantages


Format 
yourreferences consistent with APA guidelines.
Include
 citations in the speaker notes or in a separate reference list.
Deliver
 your presentation and submit the file or link.


For Local Campus, deliver a 10- to 15-minute oral presentation accompanied by your slides or multimedia.


For Online Campus, provide detailed speaker notes in the presentation file or in a separate document.


Submit your assignment.


You'll get 1 file (447.4KB)
More products from UopTutorialStore