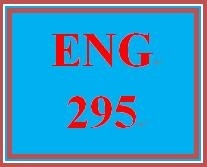 ENG 295 Week 1 TEDTalks: Natalie Merchant—Singing Old Poems to Life Video Reflection
Entire Course Link
https://uopcourses.com/
https://plus.google.com/u/0/108200033792883877670/posts/dWT4sDYbQKM
 ENG 295 Week 1 TEDTalks: Natalie Merchant—Singing Old Poems to Life Video Reflection 
Hearing old poems spoken or sung is how many of us remember our first experience with classic children's poetry. How does 'hearing' a poem transform the written word? Watch Natalie Merchant perform to experience the transformation of old poems into song.
Watch "TEDTalks: Natalie Merchant–Singing Old Poems to Life," located on this week's Electronic Reserve Readings page.
Consider the following:   
In this performance video, music enhances the spoken word. When listening to Merchant's performance, what is your emotional response?  
Overall, do you think that the music complements the poetry?  
Would this performance have a similar effect on a child?  
Discuss and respond to your peers throughout the week.
You'll get 1 file (34.5KB)
More products from UopTutorials