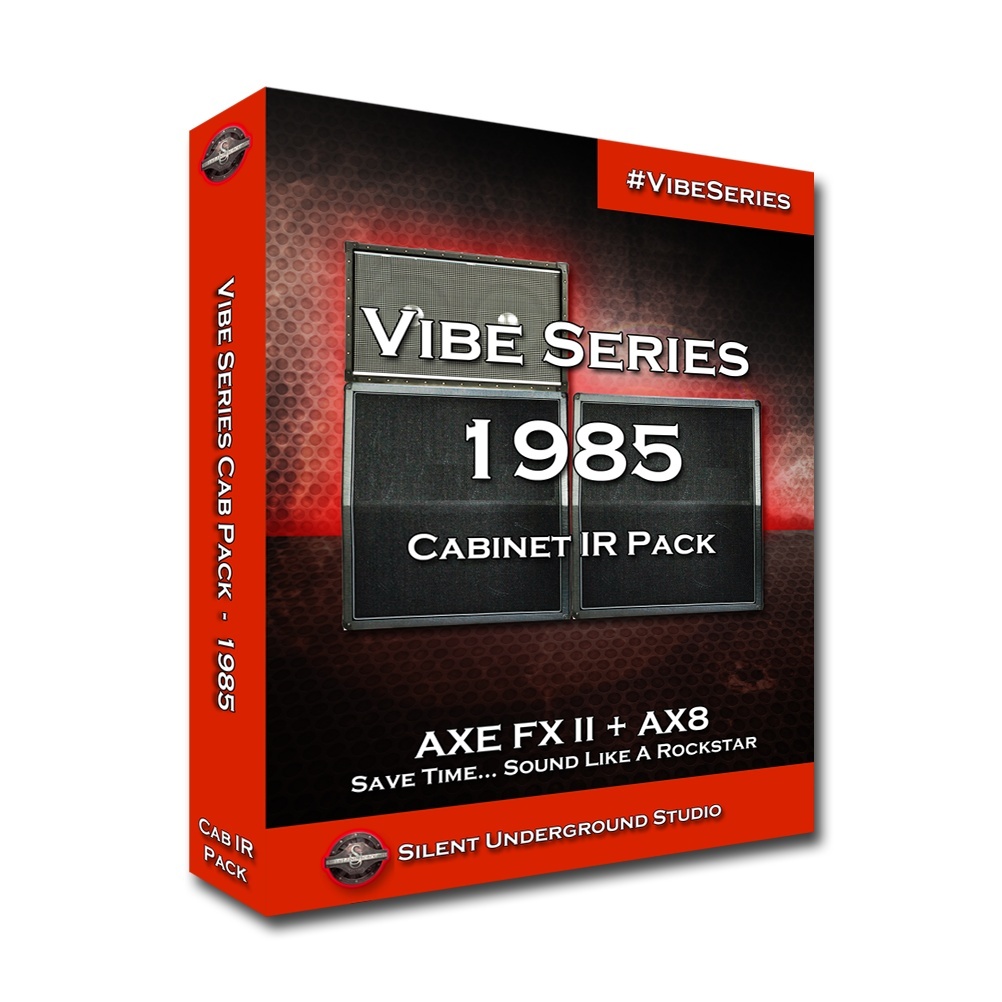 1985 "Vibe Series" Cab IR Pack (FAS)
1985 "Vibe Series" Cabinet IRs
- 423 Unique Cabinet IRs

Our 1985 "Vibe Series" Cabinet IRs are based on iconic Metal & Rock guitar sounds from 1985. Formats include; SYX for direct use with Fractal devices and .IR for use with CAB Lab

Each model is offered with 6 Mic types:
SM57, MD421, R121, U87, RE20, KM84 Room PLUS  a blend of all 6


---

The following albums formed the "base" tones used in creating these IRs:
AC/DC - Fly On The Wall
Accept - Metal Heart
Aerosmith - Done With Mirrors
Alcatrazz - Disturbing The Peace
Anthrax - Armed and Dangerous
Anvil - Backwaxed
Armoured Saint - Delirious Nomad
Artillery - Fear Tomorrow
Avenger - Prayers Of Steel
Axewitch - Hooked On High Heels
Bon Jovi - 7800 Degrees Fahrenheit
Burning Starr - Rock The American Way
Celtic Frost - To Mega Therion
Chaistain - Mystery Of Illusion
The Cult - Love
Destruction - Infernal Overkill
Dio - Sacred Heart
Dokken - Under Lock and Key
Exciter - Long Live The Loud
Exodus - Bonded By Blood
Grave Digger - Witch Hunter
Halloween - Dont Metal With Evil
Hawaii - The Natives Are Restless
Helloween - Walls Of Jericho
Hirax - Raging Violence
Holland - Little Monsters
Icon - Night Of Crime
Iron Angel - Hellish Crossfire
King Kobra - Ready To Strike
Kiss - Asylum
KIX - Midnight Dynamite
Kreator - Endless Pain
Lááz Rockit - No Stranger To Danger
Living Death - Metal Revolution
Lizzy Borden - Love You To Pieces
Manilla Road - Open The Gates
Megadeth - Killing Is My Business...
Gary Moore - Run For Cover
Motely Crue - Theatre Of Pain
Overkill - Feel The Fire
Onslaught - Power From Hell
Possessed - 7 Churches
Ratt - Invasion Of Your Privacy
Raven - Stay Hard
Razor - Executioners Song
Running Wild - Branded And Exiled
Savatage - Power Of The Night
Saxon - Innocence Is No Excuse
Slayer - Hell Awaits
S.O.D - Speak English Or Die
Tokyo Blade - Black Hearts and Jaded Spades
Trouble - The Skull
Venom - Possessed
Vicious Rumours - Soldiers Of The Night
Virgin Steel - Noble Savage
W.A.S.P - The Last Command
Warlock - Hell Bound
Warrior - Fighting For Earth
Whiplash - Power and Pain
White Lion - Fight To Survive
Waysted - The Good, The Bad, and the Waysted
Wrathchild - Trash Queens

These IRs are not JUST tone matched Cabinet IRs:
We have analysed each songs overall guitar EQ curve and have applied this curve to our own cabinets and mics to create tones that can be used with great results in a variety of styles coupled with almost any amp sound.


---


**All band, song and microphone names have been used for demonstration purpose only.

Disclaimer:
Please know HOW to use your hardware / software BEFORE purchasing our products. They are made to work in any standard setup without the need for any external processing. No refunds are given on Digital products.
You'll get a 17.7MB .ZIP file.
More products from Silent Underground Studio