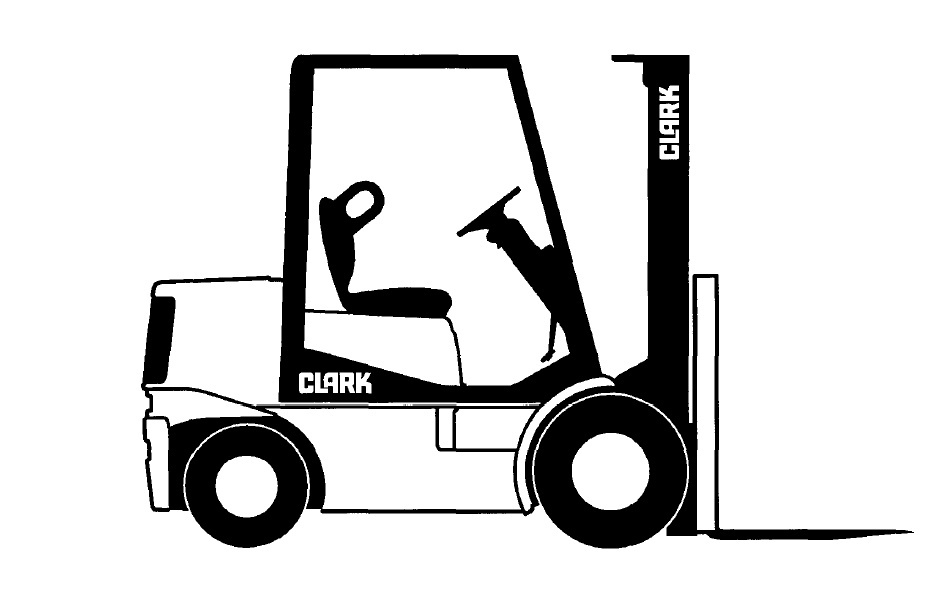 Clark SM 555 TM 12/25 36Volt EV-100 Supplement Forklift Service Repair Manual Download
Complete factory Service Repair Manual for Clark SM 555 TM 12/25 36Volt EV-100 Supplement Forklift.This manual contains service, repair procedures, assembling, disassembling, wiring diagrams and everything you need to know.

Service Repair Manual Covers
INTRODUCTION
HOW TO USE THIS MANUAL
SUBJECT / PICTORIAL INDEX
SAFETY INFORMATION
Driver's Daily Checklist
PM Report Form
1.1 PM - PLANNED MAINTENANCE PROGRAM
1.2 1 Visual Inspection
2.1 2 Operational Checks / Test Drive
3.1 3 Air Cleaning
4.1 4 Critical Fastener Torque Checks
5.1 5 Chassis Components Maintenance / Inspection
6.1 6 Lubrication, Filters & Fluid Level Checks
7.1 7 Electrical Tests
01 1 PLANNED MAINTENANCE SCHEDULE
01 2 PLANNED MAINTENANCE AND LUBRICATION CHARTS
12 1 BATTERY REMOVAL
12 2 BATTERY MAINTENANCE
13 1 LIFT PUMP MOTOR MICROSWITCH ADJUSTMENT
13 2 SERVICE BRAKE MICROSWITCH ADJUSTMENT
13 3 PARKING BRAKE MICROSWITCH ADJUSTMENT
13 6 ACCELERATOR CONTROL
14 1 ELECTRICAL SYSTEM
16 1 ELECTRICAL MOTOR MAINTENANCE
16 2 DRIVE MOTOR BRUSH REPLACEMENT
16 4 STEER MOTOR BRUSH REPLACENT
16 22R/22 STEER PUMP MOTOR
16 23 R/23 DRIVE MOTOR
16 24RI24 LIFT PUMP MOTOR
16 27 GENERAL MOTOR MAINTENANCE
17 4 STEER AXLE TRUNNION MICROSWITCH ADJUSTMENT
19 SCR CONTROL PANEL
SCR CONTROL OPRERATION AND TROUBLESHOOTING
DRIVE AXLE MAINTENANCE
DRIVE AXLE
PNUEMATIC TIRE AND WHEEL MAINTENANCE
BRAKE BLEEDING PROCEDURE
PARKING BRAKE ADJUSTMENT
BRAKE CALIPER ASSEMBLY
BRAKE MASTER CYLINDER
PYLON RELEASE ADJUSTMENT
OR/l 0 STEERING GEAR CONTROL
STEER AXLE TRUNNION BEARINGS ADJUSTMENT
STEER WHEEL BEARING MAINTENANCE
POWER STEERING RELIEF PRESSURE CHECK
STEER CYLINDER LINKAGE CHECK & ADJUSTMENT
STEER AXLE, STEERING LINKAGE, STEERING TRUNNION
STEERING CYLINDER
STEER PUMP
HYDRAULIC SUMP FLUID AND FILTER CHANGE
LIFT PUMP
HYDRAULIC SYSTEM RELIEF PRESSURE CHECK AND ADJUSTMENT
HYDRAULIC VALVE (MAIN HYDRAULIC VALVE)
HYDRAULIC SYSTEM SCHEMATIC DIAGRAM
TILT CYLINDER ADJUSTMENT
TILT CYLINDER
TILT CYLINDER DRIFT TEST
LIFT CHAIN CHECK AND ADJUSTMENT
UPRIGHT DOWNDRIFT TEST
FORK MAINTENANCE
LIFT CHAIN MAINTENANCE
UPRIGHT REMOVAL
1 COUNTERWEIGHT REMOVAL
2 FRONT BATTERY PLATE ADJUSTMENT
3 MACHINE JACKING AND BLOCKING
1 OVERHEAD GUARD REMOVAL
2 HOOD REMOVAL
TRUCK DATA PLATES AND DECALS
SUGGESTED EQUIPMENT FOR ELECTRIC TRUCK PM
FIRE EXTINGUISHER RECOMMENDATIONS
LUBRICANT SPECIFICATIONS AND RECOMMENDATIONS
TRUCK SPECIFICATIONS
MEASURING VOLTAGES WITH THE V - 0 - M
MEASURING RESISTANCE WITH THE V - 0 - M
==================================================
High Quality PDF Manual,All pages are printable.
Instant Download
No Shipping Cost
No Need to Wait For A CD-ROM


File Format PDF
Language English
Compatible All Versions of Windows & Mac
Requirements Adobe PDF Reader
Thanks for visiting!
You'll get a 91.2MB .PDF file.