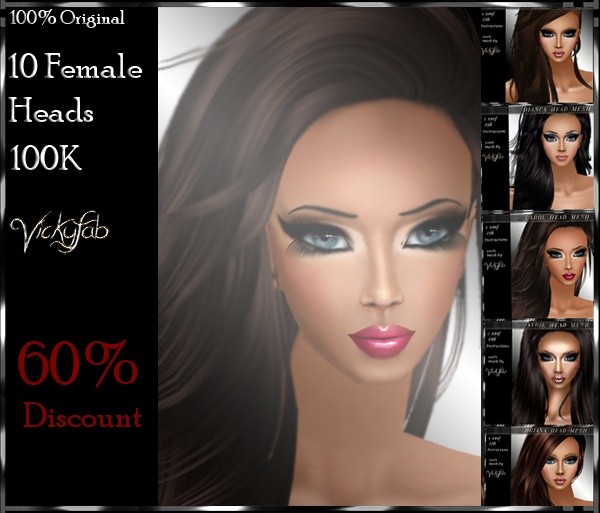 Head Meshes offer
Mesh FilesPlease check image for specifications
IMPORTANT READ 
For resale rights please pm me on imvu or facebook or email.
You may use the files in only 
ONE 
 imvu account
Do not resell
 my files unless you buy resell rights. I will keep a list of the
people that have rr. 
Do not claim them as your own, if you do buy reselling rights you
need to say that you have reselling rights from me.
You can set meshes you buy from me as derivableFiles are for IMVU catalog use ONLY 
The files might be zipped - .rar or .zip ( you must use WinRAR to
unpack them ) 
After the files are sent the credits won't be refundable. 
Do not use my images on your product page. 
For my Head Meshes offer in order to avoid a glitch with the neck you will need to derive from: 
http://www.imvu.com/shop/product.php?products_id=17115327if
you derive from imvu head you will have a glitch on the neck the offer is still very good and you can have your heads set as derivable.Instructions will be given. 
Also don't forget its all about the sizing you can make a head look different with different size so you can have more options. 
THESE ARE MESH FILES.
You can try the meshes here:
http://www.imvu.com/shop/web_search.php?manufacturers_id=92708904
You'll get 1 file (1.2MB)
More products from Vickyfab