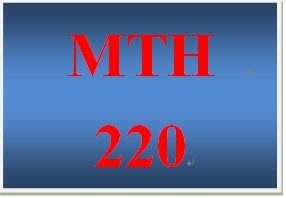 MTH 220 Week 2 participation College Algebra, Ch. 3, Section 3.5
MTH 220 All Participations Link
https://uopcourses.com/category/mth-220-participations/
MTH 220 Week 2 participation College Algebra, Ch. 3, Section 3.5
A Practical Problem using Rational Functions 
A company is planning to manufacture all-terrain vehicles (ATV's).  Fixed monthly cost will be $200,000 and it will cost $2500 to produce each ATV. 
            a) Write the cost function, C, of producing x, ATV's.
            b)  Write the average cost function,, of producing x ATV's.
            c)  Find  .
            d) What is the horizontal asymptote for the function,? 
You'll get 1 file (52.5KB)