Dungeon Party - WRobot Plugin - By Ordush V1.0.1
This is my Dungeon Party (Dungeon bot) for WRobot.
It's an advanced plugin that makes it possible to use/make dungeon profiles.
It makes sure that your groups stays together, lets the tank pull while the group follows.
For support and suggestions please use:
https://wrobot.eu/forums/forum/91-dungeon-party-plugin/
Purchase Links
https://sellfy.com/p/sdHg/
** Release sale: 25% discount the first week! **** DOES NOT INCLUDE DUNGEON PROFILES FOR ALL DUNGEONS - ONLY INCLUDING PROFILE FOR RFC!! **Features:
The plugin adds an in-game interface where you can see party status.
- Makes sure that the team sticks together.
- Only tank will pull
- Tank will only pull when the group is ready. (Full mana, hp, and in-range).
- Easy to select role interface
- The profiles will not reset when you stop/start the bot. (Unless a soft-reset is made /reload)
- It will auto set HS
- Will reset instance when it's clear.
- Will keep spamming the instance until whole team is at set level (20 for RFC)
- Chars will do a town run after a dungeon is cleared (If it needs it).
- Easy to add profiles (see the video).
Included:
Dungeon Party Plugin
FULL RFC Profile (Use this as a template to make new dungeon profiles). <- level 16-17 is suggested as a starting point, also a good idea to be geared.
Howto:
Making a team ready:
- Log on with all 5 chars, and start the bot.
- The first thing you do is to choose the role on every char. (Tank on the tank, Healer on the healer, DPS on the dps).
- Secondly you party up your group. Stop the bot and write /reload in-game.
- Load your profile and start the bot.
Making a dungeon profile:
https://www.youtube.com/watch?v=N1VBWEPivOY
Commands:
/wr or /wrobot <- Shows available commands (You can use /wr or /wrobot for all commands)
/wrobot DP show <- Shows the in-game frame
/wrobot DP version <- Shows the version of Dungeon Party
/wrobot DP role <- Shows role selection frame
Coming Soon:
- More dungeon profiles
Versions
1.0.0
- Release
1.0.1
- Parties can now be any size instead of just 5.
In-game Interface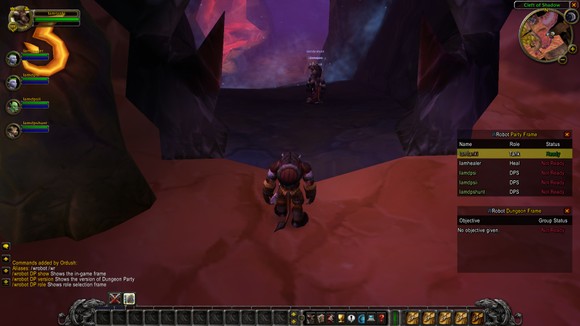 https://www.youtube.com/watch?v=T77WUpX3fdk
You'll get 1 file (10.5KB)