Ancient Beauty Secrets DIY Class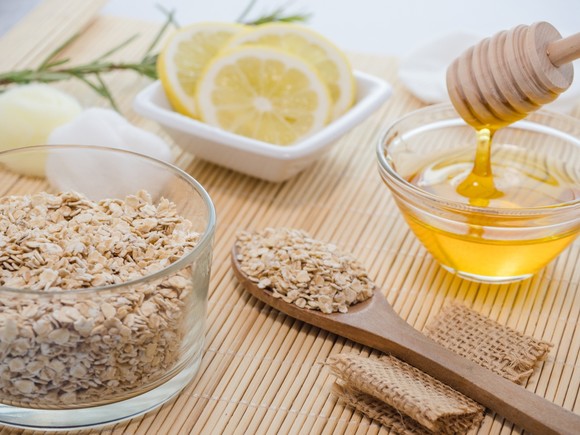 COPYRIGHTED INFORMATION--NOT TO BE FORWARDED, COPIED OR SHARED IN ANY WAY OUTSIDE OF YOUR OWN CLASSES.By downloading you agree to the terms below*ANCIENT BEAUTY SECRETS DIY HANDOUT:
This relevant digital download ($39.95 value) shows how easy it can be to host a DIY class featuring recipes for homemade balms, creams and scrubs using these tried and true remedies. 
Beauty rituals and the use of oils have been used for thousands of years by queens and women of prominence. Egyptians, including the legendary Cleopatra, were passionate about skin care and were considered highly accomplished in their specially crafted beauty treatments. From the Orient to the Romans, to the Middle East, ancient oils were known to improve skin appearance, tone and texture.
These Ancient Beauty Secrets DIY recipes include ingredients like beeswax, honey, shea butter, olive oil and essential oils so you and your guests can create amazing skin care products that teach people how to use their oils through homemade self care remedies.
We recommend laminating multiple copies for yourself to use over and over again at your classes instead of costly tear pads. So what's the return on a $29.95 investment that you can use multiple times?
It will never expire! These are historical uses, so it's already old! It will never need to be updated. When you enroll one medium sized enrollment kit from this download, it's already more than paid for itself. (Except you get to use the handouts again and again without any additional investment!)
BONUS #1
ANCIENT BEAUTY SECRETS DIY POWERPOINT PRESENTATION ($29.95 value) FREE!

Included in this download is 16 slide presentation allowing you to share this class in a large group, or an online class. It follows the handout and includes helpful speaker notes. 

BONUS #2 ANCIENT BEAUTY SECRETS DIGITAL AND PRINTABLE INVITATIONS ($10.95 value) FREE!
Invite people to attend your trainings through online or printable media. This beautiful graphic features an eye-catching image along with phrasing that will encourage attendance, and space to include your location, date and time of your class.
COPYRIGHTED INFORMATION--NOT TO BE FORWARDED, COPIED OR SHARED IN ANY WAY OUTSIDE OF YOUR OWN CLASSES.By downloading you agree to the terms below*
Includes:
Supporting historical information for each ingredient
Helpful DIY Powerpoint Presentation with speaker notes
DIY Recipes using common traditional ingredients and essential oils
Unbranded for use in essential oil classes
Compliant due to historical language and usage
Can be used in a secular or religious setting 
About the author:
My name is Rachel Carter, and I'm the author of these materials. You may have seen me in the documentary Ancient Secrets of Essential oils. That's because in 1996, I graduated from the Word of Life Bible Institute In Schroon Lake NY in Systematic theology and Bible survey—a perfect foundation for teaching Oils of the Bible. For nearly four years, I've researched Hebrew and Greek texts and taught many people how oils were used throughout scripture--historically, prophetically and scientifically. In fact, we successfully created an organization of over 4,000 oil users with the help of this training, and I'm excited to share this these materials with you!
Have you wanted to share your faith through your oil classes? Have you wondered if there was any prophetic significance of oil usage? Does the Hebrew and Greek text share insights beyond what we can gather from the English pages of our Bibles?
These were the answers I set out to uncover. This training tool will deepen your faith as you understand prophetic and profound truths beyond these ancient gifts.
We built our essential oil business to one of the top leadership ranks of our company with this handout and believe you can too. But one thing we can promise...your classes and your understanding of oils and God's Word will never be the same!
Check out our Oils of the Bible download for Bible themed oil classes anytime, our Oils of the Resurrection handout for classes held during the Easter season and our Christmas themed, Gifts of the Magi handouts.
COPYRIGHTED INFORMATION--NOT TO BE FORWARDED, COPIED OR SHARED IN ANY WAY OUTSIDE OF YOUR OWN CLASSES.
By downloading, you agree to the terms*:
THIS NON-DISCLOSURE AGREEMENT (the "Agreement")
BETWEEN: Leaves for Medicine LLC of 4091 Principal Circle NW Conover, NC 28613, (the "Seller") - AND - sellfy downloader, (the "Purchaser")
BACKGROUND:
A. The Seller and the Purchaser are contemplating a possible transaction (the "Transaction") with respect to: Essential Oils of the Bible Handout, Oils of the Resurrection Handout, Gifts of the Magi Handout, Ancient Beauty Secrets Handout, Video Download, Recorded Video, Marketing Materials, Oils of the Bible DIY class handouts, and any materials associated with coaching on Oils of the Bible.
B. In connection with the Transaction (the "Permitted Purpose"), the Purchaser has requested certain confidential information (the "Confidential Information").
IN CONSIDERATION OF and as a condition of the Seller providing the Confidential Information to the Purchaser in addition to other valuable consideration, the receipt and sufficiency of which consideration is hereby acknowledged, the parties to this Agreement agree as follows:
Confidential Information
1. All written and oral information and downloadable materials disclosed or provided by the Seller to the Purchaser under this Agreement constitute Confidential Information regardless of whether such information was provided before or after the date of this Agreement or how it was provided to the Purchaser.
2. Except as otherwise provided in this Agreement, the Confidential Information will remain the exclusive property of the Seller and will only be used by the Purchaser for the Permitted Purpose. The Purchaser will not use the Confidential Information for any purpose that might be directly or indirectly detrimental to the Seller or any associated affiliates or subsidiaries.
3. The obligations to ensure and protect the confidentiality of the Confidential Information imposed on the Purchaser in this Agreement and any obligations to provide notice under this Agreement will survive the expiration or termination, as the case may be, of this Agreement and those obligations will last indefinitely.
Ownership and Title
4. Nothing contained in this Agreement will grant to or create in the Purchaser, either expressly or impliedly, any right, title, interest or license in or to the intellectual property of the Seller.
Remedies
5. The Purchaser agrees and acknowledges that the Confidential Information is of a proprietary and confidential nature and that any disclosure of the Confidential Information to a third party in breach of this Agreement cannot be reasonably or adequately compensated for in money damages and would cause irreparable injury to the Seller. This includes forwarding or sharing this proprietary intellectual property to downlines, cross-lines, or any other entity that could benefit financially from the use of the material.
Accordingly, the Purchaser agrees that the Seller is entitled to, in addition to all other rights and remedies available to it at law or in equity, an injunction restraining the Purchaser and any agents of the Purchaser, from directly or indirectly committing or engaging in any act restricted by this Agreement in relation to the Confidential Information.
Governing Law
6. This Agreement will be construed in accordance with and governed by the laws of State of North Carolina.
General Provisions
7. The Purchaser is liable for all costs, expenses and expenditures including, and without limitation, the complete legal costs incurred by the Seller in enforcing this Agreement as a result of any default of this Agreement by the Purchaser.
8. The Seller and the Purchaser acknowledge that this Agreement is reasonable, valid and enforceable. However, if a court of competent jurisdiction finds any of the provisions of this Agreement to be too broad to be enforceable, it is the intention of the Seller and the Purchaser that such provision be reduced in scope by the court only to the extent deemed necessary by that court to render the provision reasonable and enforceable, bearing in mind that it is the intention of the Purchaser to give the Seller the broadest possible protection against disclosure of the Confidential Information.
9. This Agreement constitutes the entire agreement between the parties and there are no further items or provisions, either oral or otherwise.
Leaves For Medicine, LLC (Seller),
Last updated, May 30, 2018
More products from OilsOfTheBible