Private Skype guitar lessons with Mika Tyyskä
I'm here to help you!
Interested having a skype guitar lesson? I'm here for you. Maybe you're stuck and need some inspiration to find new ideas? Or maybe there's some techniques that cause problems?
I would love to help you with your playing and inspire you to go further. Each lesson comes with some material and homework. In some cases backing jam tracks. When needed, I will also deliever you a little video clip after the lesson to make sure things don't get forgotten that easy!
Get in touch, and let's talk what we can do about your playing and music.

Here's some topics I've been covering with my students over the years.

FRETBOARD NAVIGATION
- 3 ways to approach the fretboard
- How to expand and break from box playing

CHORDS / ARPEGGIOS/ SCALES / MODES
- Understanding how everything is linked to each other like magic
- Mastering the modes: Get the sound of mode to your ear
- How to build chords

MELODIC IMPROVISATION AND PHRASING
- Respecting the chords / harmony in your lead playing
- Playing with chord changes
- Chordal playing. Combining chord and melodies together

CREATIVITY
- Everythingstarts from simply little ideas
- Composing techniques and coaching. How to get started and how to put full tunes together.
- Produce your own music
- I can help you with all areas when it comes to music production. From drum machine programming and capturing your playing and mixing.

RHYTHM
- How to get better timing and focused rhythm (also on lead playing)
- Groove secrets
- Odd time signatures and rhythm groupings for more groovy and melody and rhythm playing.

TECHNIQUES
- Making you playing sound more clear and focused, muting noises
- Bending and vibrato
- alternate–, economy–, sweep–, hybrid picking
- Legato and tapping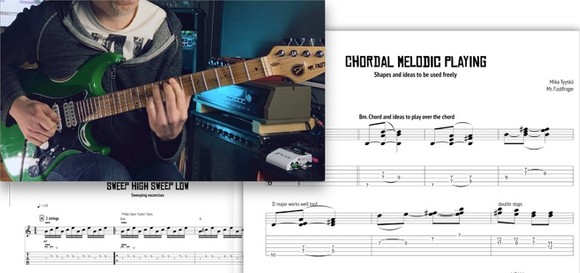 What you need
- Skype program (we can also use facetime as an alternative).
- Some kind of camera  and a microphone ((maybe your laptop has these on board already).

About the lessons
One lesson is 50 – 60 minutes long and we proceed in pace that suits you. We can start with a single lesson then if you want, meet as often as you want and need.
With each lesson you'll get some material and home work. It depends on the topic. I got plenty of material that I've created for students over the years. Tablature PDF (and Guitar Pro files), backing tracks. I got even video clips of certain topics.

BOOK A LESSON. TWO STEPS

1. Contact me first.
To book a skype lesson, get in touch.
You can get in touch by sending me a message here:
https://sellfy.com/mikafastfinger/contact/
Or on Facebook, send a private message through Mr. Fastfinger's page.
https://www.facebook.com/MrFastfinger
or just send me emai:  mika guitarshredshow.com.
Let's talk about what we can do and book a date!
2. Pay via PayPal

1 Lesson = 35€
2 Lessons = 60 €
I look forward hearing from you!
More products from Mika Tyyskä - Mr. Fastfinger