Home
Classical Workshops
WORKSHOP 3 - Classical Pilates 'Strip-Back': One & Double Leg Pull (Running Time 123 Minutes)
WORKSHOP 3 - Classical Pilates 'Strip-Back': One & Double Leg Pull (Running Time 123 Minutes)
Welcome to my monthly two hour Classical Pilates Workshop which was live-streamed on Saturday 16th May 2020 via Skype & now available for you to download once purchased, & view/practise as many times as you wish.
This Workshop has been running at Hassocks Sports Centre, Sussex UK, for Instructors for the past 17 months, & each month I take one exercise from the Classical Pilates Matwork Repertoire in the order that it was set, I strip it back & rebuild to accommodate all levels.
Month 1 was the Hundred, & this month we have reached 'One & Double Leg Pull'.  Both Classics are fantastic developments of the previous extension exercises, now adding hip extension & knee flexion to further challenge the Centre, open up the hip & strengthen the whole back line.
The format for this two hour workshop is as follows:
We begin in Standing to find our balance & centre
We focus on the relationship of the pelvis, spine & shoulder girdle with the all important feet, as this relationship is integral to the Classical Work on the mat
Transition to the mat
Connect with our mat via release, the breath, & the genius two way opposing energy of pilates opposition, & begin to work with the Powerhouse
We work some of the Classical exercises to warm & connect mind & body
We are then ready to work with the Classics of the month, find what we need to prep the body, & then work together to build the exercise in stages, & look at some variations too
We work a short fully instructed whole body Classical Flow together, including the exercises we have been working with, being sure to move the body as one fully integrated whole
We finish with some time for Q&A, sharing & feedback
I so hope you enjoy & find this time helpful, if you have any questions or would like to delve further into this phenomenal Pilates Method, then do join me at one of my weekly online Classical Classes, or come receive some Instructor Mentoring & train with me 1:1 via Skype.
All of these options are available worldwide, please see full details on my website 
ksjbodycontrol.co.uk
With much love,
Katharine xxx
Videos optimised for mobile, tablet or laptop in Quicktime MP4 format - running time 123 mins.
You'll get 1 file (2.1GB)
More products from ksjbodycontrol
10% OFF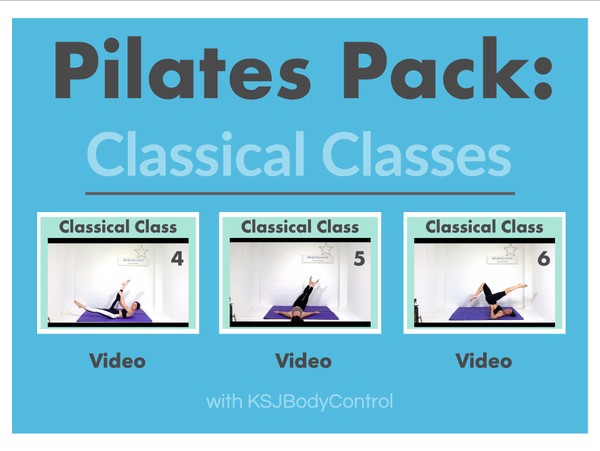 PILATES PACK: Classical Classes 4-6 (Total Running Time 161 Minutes)
10% OFF
PILATES PACK: Classical Classes 7-9 (Running Time 174 Minutes)
10% OFF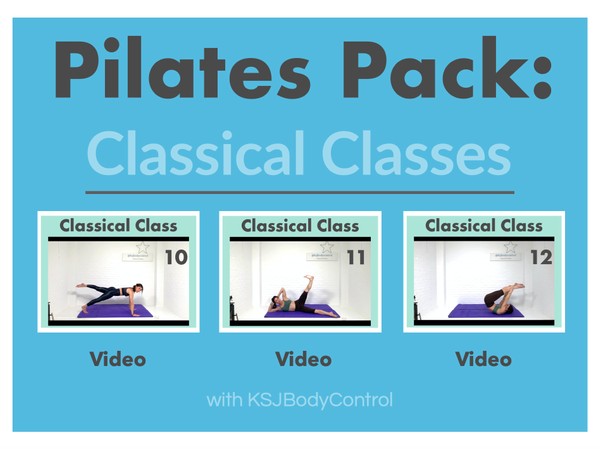 PILATES PACK: Classical Classes 10-12 (Total Running Time 182 Minutes)