Logic Pro X Template Downloads - Terms and Conditions
Jon Brooks' Logic Pro X templates are available to download for educational purposes and/or to use the template for your own productions.
Use of the Logic Pro templates are subject to the following conditions:
You may use the template or you may incorporate elements of the template into another track (s) / project (s) you are creating as long as the majority of the creative content (composition) is your own.
You must not directly or indirectly license, sub-license, sell or resell the Item, or redistribute the work as is (even for free). Resale of the templates or music tracks is strictly prohibited.
© Jon Brooks. All music is subject to copyright.
---
Royalty Free Stock Music Licensing Agreement - Terms and Conditions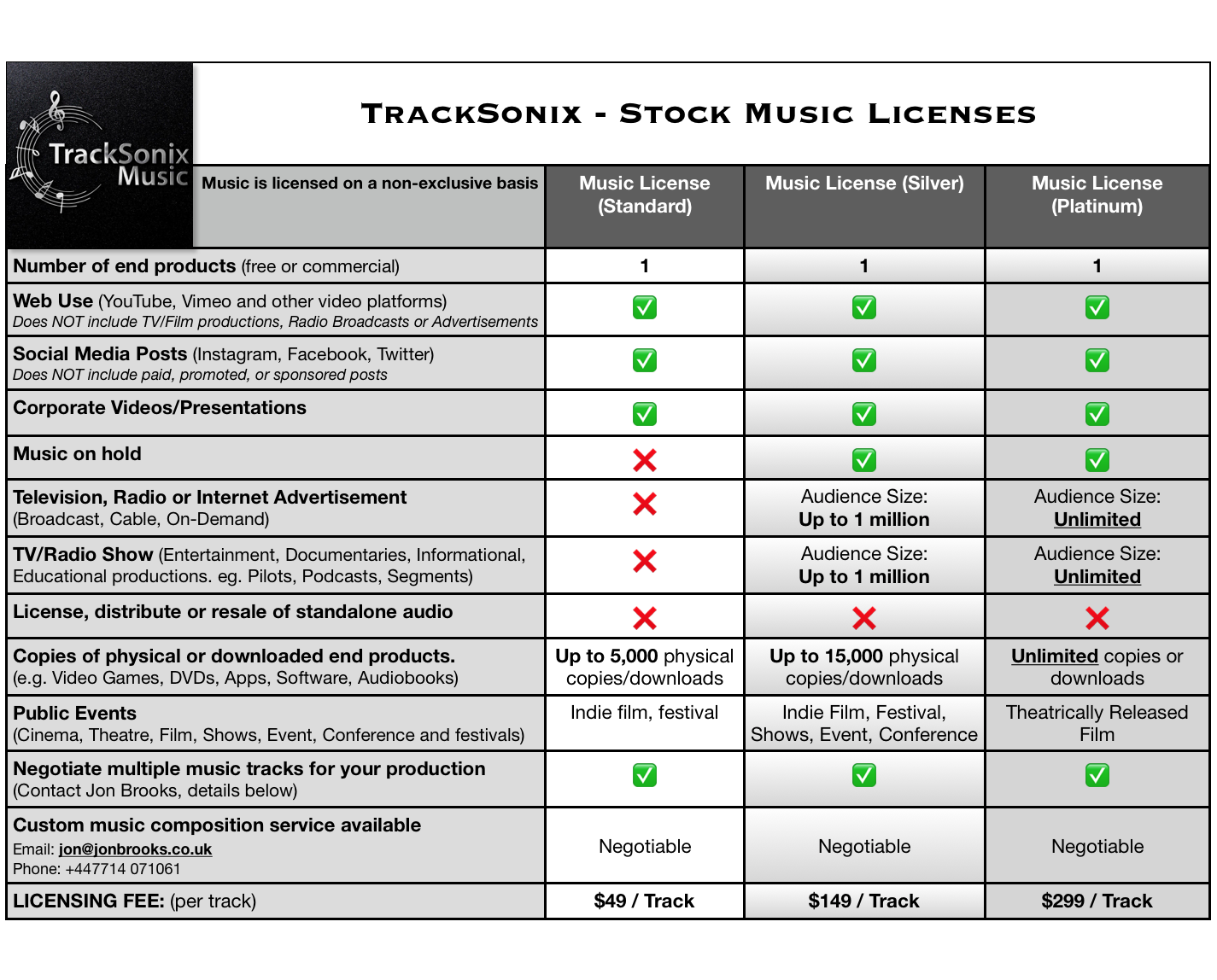 Jon Brooks' Sellfy Store ("TrackSonix Music Licensing") provides the user ("you") licensing options for the use of certain rights in and to musical compositions ("Compositions") and sound recordings ("Recordings"). Compositions and Recordings are referred to as "Tracks".
By using or accessing any of our music licensing Store products, you agree to be bound by these terms and conditions ("Agreement"). If you do not agree to any of these terms and conditions, then please do not use the Store. If you breach any of our terms and conditions, we reserve the right to enforce all rights reserved and/or applicable to the fullest extent permitted by UK law.
FEES AND PAYMENT
TrackSonix Music Licensing reserves the right to require payment of fees for certain products or services via the Sellfy Store. You shall pay all applicable fees, as described on the Store in connection with such services selected by you. TrackSonix Music reserves the right to change its price list at any time. To the fullest extent allowed by applicable law, all fees paid hereunder are non-refundable unless otherwise agreed at Jon Brooks' discretion or permitted by this Agreement. Your payment invoice to Sellfy and downloaded Track will act as evidence of your music license.
CUE SHEETS
You are required to file a cue sheet if the music you purchased is used in a TV programme or series, TV commercial or feature film. Cue sheets are provided with the Track download. If your production is to be broadcast on television, radio or released theatrically please fill out the cue sheet and submit it electronically to [email protected] and to your country's performance rights organisation. This is in compliance with your Music License Agreement. You will not be required to pay any royalties. This is the responsibility of the broadcaster and there are no costs associated to filing a cue sheet.
STORE CONTENT
The Compositions and Recordings on the Store are the exclusive property of Jon Brooks. All Compositions and Recordings performed or displayed in the TrackSonix Music Licensing Store, or which may be made available for your download (also known as "Content"), are protected by copyright.
YOUTUBE CONTENT ID
Tracks may be digitally fingerprinted with YouTube Content ID, either through YouTube or via a YouTube partner platform inclusive of but not limited to AdRev, CDBaby, Ditto Music, Identiffy or TuneCore. In the case that Tracks uploaded to the Store are registered with any digitally fingerprinting platform, this information is provided in the description section of each Track. With a valid music license you have the ability to dispute the content ID claim and submit the appropriate music license to YouTube to release the claim.
In the case of notifying TrackSonix Music you have received a copyright claim and require assistance, we will do the best to our ability and in a timely manner to clear the copyright claim. However, in the rare case of us not being able to successfully clear the copyright claim, we may issue a refund, but we are not liable or susceptible to copyright infringement or any legal responsibility in any way, shape or form. Contact Jon Brooks (TrackSonix Music) if you have any queries.
DOWNLOADING MUSIC
Broadcasting, hiring, copying, lending, retailing and public performance of any Tracks or Content without purchasing the appropriate music licence is strictly prohibited and is considered as unauthorised use. We reserve the right to fully enforce our rights and those of our licensors to the fullest extent permitted by law in all relevant jurisdictions.
Before purchasing a Track, you must select a license according to your production usage. Following payment and checkout, you will be able to download the Track and use it within the terms of your licence. Our music licenses are intended to be clear, straightforward and easy to understand. If anything is unclear regarding any aspect of using the music, licenses, or anything related to the terms and conditions, please contact [email protected]
LIMITATIONS OF TRACK USAGE
You may not:
sublicense, sell, share, give away, transfer or assign the Track or any of the rights that we grant you with to any other party except solely as embodied within your audiovisual or other relevant works "Production(s)".
resell or rename the Track as part of a package or by itself except solely as embodied within your Project/Production.
resell the sole Track (or otherwise make them obtainable) in any way that would enable a third party to access or download the Track as a separate file, such as on CDs, in website templates or via digital distribution.
resell the Track (or otherwise make it obtainable) on any other platform such as a music compilation or music library.
sell the Track (or otherwise make it obtainable) as part of your music or as a song, even if edited or adapted.
claim to be the author or copyright holder of the Recording or of any derivative work created from the Recording, or to hold any rights (save as those expressly permitted by Jon Brooks) in relation to the Compositions and Recordings.
resell, reproduce or distribute Tracks on CDs, DVDs, tapes, records, ringtones or any other digital configuration.
use the Track for broadcast or other public performance without adhering to the appropriate public performance rights clearance practice in the appropriate territory.
SENSITIVE AND UNLAWFUL USE
TrackSonix Music reserves the right to refuse to grant use of Tracks in association with any other works at its sole and absolute discretion. In particular, TrackSonix may not approve Tracks to be synchronised to videos that present any property or person in a manner that would be unfavourable or obviously controversial to a group of people or individual.
MULTIPLE USE
Defined by the terms of the licence you have purchased, the download fee covers use of the Track in one (1) production only.
If you want to use the same Track in multiple projects or productions you will be required to download the Track accordingly and purchase separate licenses. Substantial changes to your original production are considered a new production.
AVAILABILITY
TrackSonix Music makes all possible efforts to ensure that Tracks are available and accessible to download 24 hours a day, 365 days of the year. However, TrackSonix Music makes no representations, warranties or promises that Tracks on the Sellfy Store will be available at all times due to Sellfy website updates, server downtime or any technological issues requiring service. Therefore, we will not be liable if the Sellfy Store is unavailable at any time.
TrackSonix Music has the right to terminate the licence of any Track at its sole discretion. If we are notified or conclude that our Tracks are subject to, or may be subject to a claim of any sort of infringement of another's right for which we may be liable, TrackSonix Music may, and has the unmitigated right to order you to immediately stop using the Track(s), delete or remove the recording from its computer systems, premises and storage (physical or electronic) and establish that you do.
LIMITATION OF LIABILITY
TrackSonix Music makes no warranty or representation, express or implied, except that it warrants that it has the right to grant the license granted hereunder. The integral liability of TrackSonix Music under this Agreement arising from usage of any Track shall be limited to the license fee paid for such Track. You hereby confirm that this license is granted to you without any other warranty or recourse. The content, services and products obtained or purchased through the TrackSonix Music Licensing Store, applications and any software are provided on an "as is" and "as available" basis, without any warranties, either express or implied, including, without limitation, implied warranties of merchantability, fitness for a particular purpose, completeness or accuracy of content, non-infringement, the availability or quality of any products or services available via the services, or that access to or use of the services will be error free or uninterrupted. Some states do not allow limitations on how long an implied warranty lasts, so the above limitations may not apply to you.
Without limiting the generality of the aforesaid, TrackSonix makes no representations or warranties regarding the accuracy of descriptions displayed anywhere on the Store, or regarding suggestions or recommendations of services or products offered or purchased through the Store (including, without limitation, the sound quality of any Track or Recording). Tracks are provided "as is" without any warranty of any kind from TrackSonix Music. However, TrackSonix Music may be willing to adapt or modify Tracks on request and at TrackSonix Music's discretion.
You hereby release TrackSonix Music (Jon Brooks), its officers, employees, agents and successors in rights from claims, demands and damages (actual and consequential) of every kind or nature, known or unknown, suspected or unsuspected, disclosed or undisclosed, arising out of (i) having acquired or not acquired any Content through the Website.
INDEMNITY
You agree to indemnify and hold TrackSonix Music (Jon Brooks), its parents, subsidiaries, affiliates, officers and employees harmless from any claim or demand (including, without limitation, from all damages, settlements, liabilities, costs and solicitor's fees) made by any third party due to or arising out of your access to the Store, use of the Store, the violation of this Agreement by you, or the infringement by you, or any third party using your account, of any intellectual property or other right of any person or entity.
REFUND POLICY & CANCELLATION
We will use appropriate endeavours to refund purchases or address the issue if there is a technical issue with a Track download or music license and we are notified within 14 days of purchase. To request a refund, please contact TrackSonix Music (Jon Brooks) and we will be happy to help.
NO AGENCY NO ASSIGNMENT

This Agreement is not transferable, assignable or sub-licensable by you except with TrackSonix Music's prior written consent. TrackSonix Music may transfer, assign or delegate this Agreement and its rights and obligations without consent. No agency, joint venture, partnership or employment is created as a result of this Agreement and you do not have any authority of any kind to bind TrackSonix Music in any respect whatsoever. Nothing in the present Agreement shall be interpreted as authorising or creating a joint venture or partnership between the Parties.
GOVERNING LAW
This Agreement shall be governed by and construed according to the laws of the United Kingdom (UK).
© Jon Brooks. All music is subject to copyright.